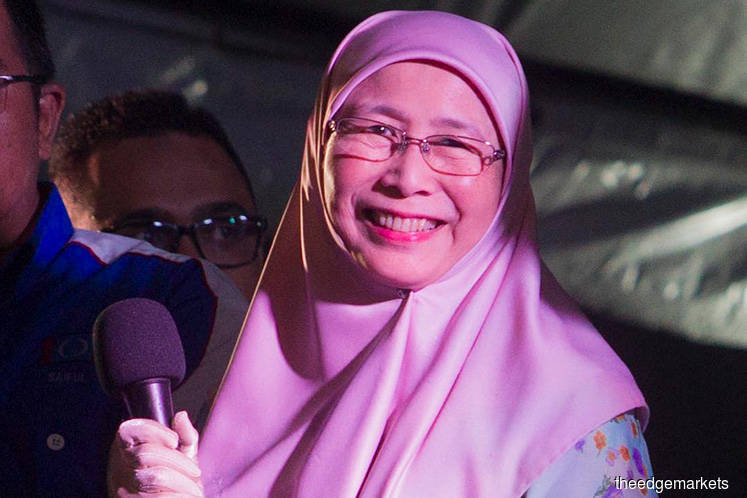 CYBERJAYA (July 26): Selangor remained as the main economic driver for the country in 2017, with a contribution of about 23.0% of Malaysia's gross domestic product (GDP), Deputy Prime Minister Datuk Seri Wan Azizah Dr Wan Ismail said today.
"In line with the global economic growth in 2017, Malaysia has recorded a stronger GDP growth of 5.9% last year, as compared to 4.2% in 2016.
"The robust achievement is mirrored by the better economic performance for most of the states in the country. Selangor remains as the main national economic driver, as it consists of 23% of the national GDP, followed by Kuala Lumpur with about 15.6%," Wan Azizah added.
She was speaking at the launching of two inaugural publications of the Department of Statistics, namely the State Socio-Economic Report and My Local Statistics (MyLocal Stats) 2017, at the Multimedia University.
Seven states grew at a faster pace than the national GDP growth rate of 5.9% in 2017, Wan Azizah said, namely Sabah (8.2%), Melaka (8.1%), Pahang (7.8%), Kuala Lumpur (7.4%), Selangor (7.1%), Johor (6.2%) and Labuan (6.1%).
Perlis had the lowest GDP growth in 2017 at 2.3%, while Penang is the only state which saw a slower GDP growth in 2017 at 5.3%, as compared to 5.6% in 2016.
GDP per capita at the national level rose from RM38,915 to RM42,218 in 2017. Six states surpassed the national level, led by Kuala Lumpur (RM111,321), Labuan (RM65,949), Penang (RM49,873), Sarawak (RM49,327), Selangor (RM48,091) and Melaka (RM46,015).
The state with the lowest GDP per capita was Kelantan at RM13,593.
The State Socio-Economic Report noted favourable growth in the services, manufacturing and agriculture sectors, which helped drive performances of several states.
Among them were Pahang (whose growth accelerated to 7.8% in 2017, from 2.0% in 2016); Selangor (7.1% from 4.8%); Johor (6.2% from 5.7%); Perak (5.5% from 4.1%); and Kelantan (5.0% from 4.8%).
Apart from these three sectors, robust performance in the construction sector also spurred Melaka's economy (whose growth rose to 8.1% in 2017, from 4.5% in 2016); Terengganu (5.9% from 3.1%); and Negeri Sembilan (4.9% from 3.5%).
The State Socio-Economic Report also highlighted Kedah's economy having grown to 5.0% (2016: 3.2%), pioneered by the agriculture and services sectors, while Kuala Lumpur's growth increased to 7.4% (2016: 5.9%), largely driven by the services sector.
In East Malaysia, performance of commodity-based sectors such as agriculture, and mining & quarrying, helped to shape economic growth. Sabah recorded a growth of 8.2% (2016: 4.7%), while Sarawak improved to 4.7% (2016: 2.3%).