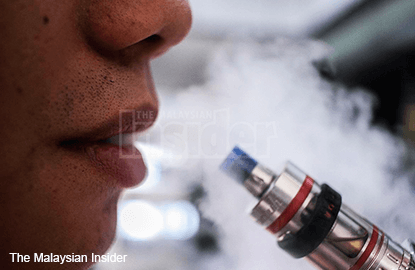 (Dec 2): The Selangor government is pushing for a meeting among respective state agencies to discuss vaping risks and effects.
"We have yet to conduct any official study on the risks and trend of vaping but we are seriously considering conducting one as we are seeing younger children and teenagers using electronic cigarettes.
"Even though the state government do not have any official stand on the matter, I believe that a proper discussion on vaping is timely," said Health, Welfare, Women and Family Affairs executive councillor Dr Daroyah Alwi.
Dr Daroyah, who was met at the state government's mobile spa therapist training graduation ceremony in conjunction with Mustika Ratu, said vaping was becoming a worrying trend because of its prevalence among young smokers.
It was recently reported that a survey by the Consumers Association of Penang at eight primary and secondary schools in Penang found that 150 students vaped regularly.
An Education Ministry representative had said that vaping was categorised as smoking and was banned in schools alongside conventional cigarettes.
The Sultan of Johor Sultan Ibrahim Sultan Iskandar on Sunday announced that vaping would be banned in the state and ordered for all shops selling e-cigarettes to close by January 1.
The sultan had also expressed his disappointment at some politicians who defended the vaping culture at the expense of public health because of its lucrative business opportunity. – The Malaysian Insider