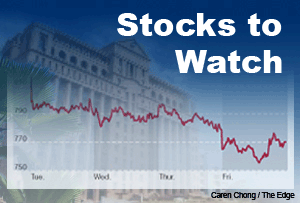 KUALA LUMPUR (Sept 30): Based on news flow and corporate announcements today, the stocks that may be in focus tomorrow (Oct 01) could include the following: Selangor Properties Bhd, Petra Energy Bhd, Goh Ban Huat Bhd, Sime Darby Bhd, Kulim Bhd, Salcon Bhd and Wah Seong Corporation Bhd.
Selangor Properties Bhd announced that its wholly-owned subsidiaries Bungsar Hill Holdings Sdn Bhd, Oriseven Sdn Bhd, Orieight Sdn Bhd and Orinine Sdn Bhd have today signed a sales and purchase agreement (SPA) with Jendela Mayang Sdn Bhd, for the disposal of a 25,686 square meters land in Pusat Bandar Damansara for RM450 million cash.
Selangor Properties said it would utilise RM237 million from the proceeds to pare down its borrowings, and the rest for working capital/acquisitions.
The counter closed 3 sen lower at RM5.83 today, with a market capitalisation of RM2.01 billion.
Petra Energy Bhd has announced that its wholly-owned subsidiary Petra Resources Sdn Bhd has been notified by Petronas Carigali Sdn Bhd on the early activation of the topside major maintenance services (TMM) contract for Sabah region, effective July 04, 2014 until May 20, 2018.
In a filing to Bursa Malaysia today, Petra Energy said the TMM services contracts was originally scheduled to commence in February 2016. However, both Petra Energy and Petronas Carigali — a unit of Petroliam Nasional Bhd, have now agreed for an early activation of the contract.
Petra Energy climbed 1.07% to RM2.83 today, with a market capitalisation of RM910.6 million.
Goh Ban Huat Bhd has announced that its proposed acquisition of Dynac Sdn Bhd for RM632 million had been terminated.
In a filing with Bursa Malaysia today, GBH said it had received a letter dated Sept 29 from Datuk Abdul Rahman Mohamed Shariff and Normala Mohd Sharif, who had expressed their intention to terminate the deal, by way of a reverse takeover of GBH, by mutual agreement.
GBH fell 17.78% to close at RM1.85 today, translating to a market capitalisation of RM343.94 million.
Meanwhile, Sime Darby Bhd has decided not to proceed with the planned acquisition of Kulim (M) Bhd's 49% stake in New Britain Palm Oil Ltd (NBPOL).
"Following the expiry of the exclusivity period under the exclusivity agreement between Kulim and Sime Darby on Sept 28, Sime Darby has decided not to proceed further at this time, on the proposed acquisition of Kulim's in NBPOL," Sime Darby said in an announcement today.
Sime Darby closed 0.33% lower at RM9.15 today with market capitalisation of RM55.49 billion, while Kulim dropped 2.99% to RM3.25, which translates to a market capitalisation of RM4.56 million.
Water and sewerage engineering specialist Salcon Bhd said its wholly-owned subsidiary Salcon Development Sdn Bhd has entered into a share sale agreement with Datuk Ding Pei Chai, to acquire the latter's 30% stake in Prestasi Kemas Sdn Bhd for RM5.8 million.
The acquisition will increase Salcon's stake in Prestasi Kemas, a property development outfit, to 70% from 40%.
Salcon rose 0.61% to 83 sen today, translating into a market capitalisation of RM559.9 million.
Chan Cheu Leong, Wah Seong Corporation Bhd's group chief executive officer and managing director, purchased 78,700 shares in the company from the open market from Sept 25 to 29, at between RM1.77 and RM1.783 per share.
Following the purchase, Chan has raised his holdings in Wah Seong to 19.77 million shares or 2.56% in direct interest, with another 40.02 million shares or 5.18% in indirect interest.
Wah Seong closed one sen lower at RM1.77 today, with a market capitalisation of RM1.37 billion.