This article first appeared in The Edge Financial Daily, on September 7, 2018.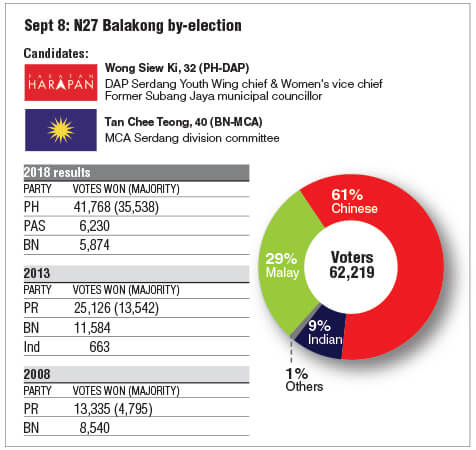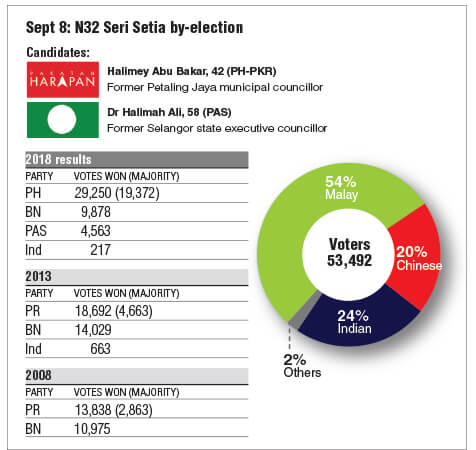 KUALA LUMPUR: A number of political twists have marked the three-week-long campaign for two Selangor state by-elections that are due tomorrow, but voters appear to be anything but excited.
In Balakong, the MCA has set sail without the Barisan Nasional (BN) logo, in a symbolic shift that spells the end of an era for the coalition in which it was a founding member and a senior partner.
It is not just that the Chinese party is using its own logo, and so giving up the solidarity with the coalition's lynchpin party, Umno. The bigger surprise is that it has shared the stage with leaders from PAS, despite its strong objections to the Islamist party's promotion of syariah law.
Moreover, this new cosiness comes as support from Umno seems to have gone tepid.
Another BN partner, MIC, also appears to be warming up to PAS, and joined PAS' campaign trails in Seri Setia earlier this week. Again, Umno grassroots leaders were notable by their absence, although the party has pledged support for PAS.
With Umno moving to the background after contesting in the Sungai Kandis by-election last month, the MCA is challenging DAP for the Balakong state assembly seat, while in Seri Setia, PAS takes on PKR.
Interestingly, for both DAP and PKR, it is the first time they will be campaigning under the Pakatan Harapan logo, following its approval by the Registrar of Societies last month.
But the new collaborations have failed to excite voters — low turnouts seen at political gatherings signal that the three-week campaign period, unusual in comparison with previous practices — was not enough to bring voters out en masse.
"It is the fence sitters who are lacking interest," political analyst Datuk Dr Abdul Halim Sidek told The Edge Financial Daily.
"They are the ones that parties need to attract but they are still suffering from an overdose of politics," he said.
This voter group, Abdul Halim said, will take their time to digest and measure the performance of the national and state leadership before any change in sentiment can be seen.
University of Malaya (UM) political analyst Muhammad Shamshinor Abdul Azzis pointed out that this is because voters are aware that the elections "will not involve a change in government like in GE14 (14th general election)".
As Pakatan has secured 51 seats in the Selangor state assembly to the BN's five, the simple majority in the state assembly will be unaffected regardless of the outcome tomorrow.
Calls by the opposition for a greater "checks and balances" in the state assembly by reducing Pakatan's majority have been largely ignored by voters in the two constituencies.
Additionally, The Edge Financial Daily observes that party values and image seem to take precedence over other matters for voters in the two constituencies.
At a street market in Balakong where the MCA and DAP campaigned on the same night, one voter acknowledged that he had no idea about the background of candidates.
"I have left the dark blue [BN logo] for two general elections already … I just came to check out their campaigns," the Malay man said as he watched the candidates and other leaders speak at the DAP stage — at times in Mandarin, which he did not understand.
When asked if he was happy with the current government, he grumbled about the cost of living, which he argued was not much different from the days of the previous administration. "I pay the same amount for the same amount of goods.
"But it's OK for now," said the 47-year-old. "We know Malaysia is in huge debt," he said, referring to the RM1 trillion national debt revealed by the new federal administration.
Other issues like cash assistance have also put the government in the limelight. But Pakatan, just entering its fourth month in Putrajaya, still has the benefit of the doubt.
"When we heard that BR1M [now Cost of Living Aid] will be reduced little by little, we were quite surprised," said a resident of a public housing project (PPR) in Seri Setia.
The mother of two in her 40s, however, saw better days ahead with federal and Selangor state governments both from the same coalition.
"If we are not happy, we can just change [the government] again," she said.
Political analyst Oh Ei Sun concurred. "Not all steps taken or not taken by the government have been taken well by voters.
"But it is too early for voters to make a firm assessment of how Pakatan is doing based on such a short track record," said Oh.
On the selection of candidates, voters have said the parties appear to have played their cards right.
For Pakatan, PKR's Halimey Abu Bakar for Seri Setia and DAP's Wong Siew Ki for Balakong are both former municipal councillors.
PAS is represented by Dr Halimah Ali in Seri Setia, a doctor and a seasoned politician who is also a former Selangor state assemblywoman.
MCA's Balakong candidate Tan Chee Teong is the only one who is untested — he is a hardware shop owner and residents' committee president; a true local who interacts with the community a lot, based on conversations with voters in Balakong.
But the incumbents are at an advantage due to the performance of the Pakatan state government, particularly on local development issues which are "more binding than issues at the federal level in the two by-elections", according to UM's Shamshinor.
One example is a public library established by PKR's Halimey during his time as a Petaling Jaya municipal councillor in Kampung Lindungan PPR, previously a squatter settlement where he spent his childhood.
Unlike other fancy community facilities that get abandoned over time, the place is open everyday and is fully utilised. With computers and air-conditioning, kids of all ages go there to play and study.
The ruling coalition also retains a huge support among Balakong voters, thanks to the performance of late DAP assemblyman for Balakong Eddie Ng.
"We really miss him [Eddie]," said a voter in her 40s, who also attended the ceramah at the night market.
"A really hardworking representative for the people … I don't really know his replacement but I will throw my support behind the team that gave Eddie to us," she said.
UM's Shamshinor said: "Based on the party's track record, the absence of huge local issues should provide another victory to the incumbent."
Abdul Halim concurred. "The majority [of voters] in Selangor are very comfortable with Pakatan, which has brought about plenty of facilities and education and monetary assistance to areas such as Seri Setia.
"It is very difficult for the opposition to win against Pakatan, which raked in a huge majority [of over 10,000 in Seri Setia and 30,000 in Balakong] in GE14," he said.
The Election Commission is expecting a 70% voter turnout for both seats, up from 49% in the Sungai Kandis by-election last month (also a Selangor state assembly seat).
Will that affect the election outcome?
"If the turnout is similar or higher than during GE14, then the votes for Pakatan will increase. But if there is a low turnout, then the opposition can gain higher vote percentage," said UM's Shamshinor.
In the opinion of Iseas' Hwok-Aun Lee, there is still "broad contentment with the Selangor government".
"I think there's still an air of newness and expectancy about post-GE14 Malaysia and Selangor, and economic policies and sentiment towards the state government, which still enjoys popularity and goodwill, will weigh heavier on voters' minds," he added.
Just like in Sungai Kandis, analysts pointed to "slight changes" but a retention of the status quo. Whether that augurs well for the voters, it is just too soon to tell.