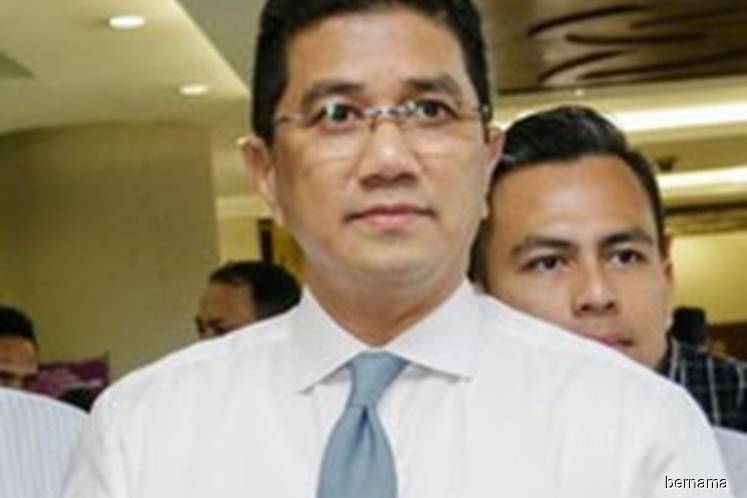 KUALA LUMPUR (May 18): Selangor Menteri Besar Datuk Seri Mohamed Azmin Ali will be meeting with Prime Minister Tun Dr Mahathir Mohamad at the latest tomorrow, and seek an audience with the Sultan of Selangor after that, to decide if he will continue to helm Selangor or help with the Federal government's administration.
In a voice message relayed by his aide Yin Shao Loong to reporters tonight, Azmin said he had no knowledge of his appointment as the Economic Affairs Minister until after Dr Mahathir's announcement of the Pakatan Harapan government's 15-member Cabinet line-up via a press statement earlier today.
He also said he "certainly will not" hold a State post and a Federal post at the same time.
"I was just informed by the State Secretary about the announcement that was just made. I'd like to record my thanks to the PM for placing his trust on me to helm a senior Ministry, and the responsibility will surely be huge in view of the efforts to restore the country's economy today.
"I have informed the Sultan of Selangor of the appointment and I have told him that I will seek a meeting with the Prime Minister as early as tonight, to get a clearer picture of the scope of work that has been given to me.
"After that, I will seek an audience with the Sultan to decide which role I should play — whether to stay in Selangor or to head to federal. That will depend on my discussion with the PM tonight, or at the latest tomorrow," said Azmin, who claimed he had no knowledge of the Ministry he would be asked to helm though he was told he would have a role to play in the Federal government.
"Hence, I need the clarification from the Prime Minister himself, and I will seek the audience from the Sultan to discuss what is the next step," he added.