This article first appeared in The Edge Financial Daily, on July 27, 2018.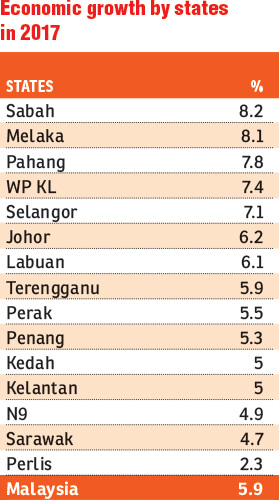 KUALA LUMPUR: Selangor maintained its position as the country's top contributing state in 2017, making up 23% of gross domestic product (GDP), said Deputy Prime Minister Datuk Seri Dr Wan Azizah Wan Ismail at the launch of two inaugural publications by the Department of Statistics Malaysia (DoSM), namely the State Socio-Economic Report and My Local Statistics (MyLocal Stats) 2017.
"In line with the global economic growth in 2017, Malaysia recorded a stronger GDP growth of 5.9% last year compared with 4.2% in 2016. The robust achievement was mirrored by the better economic performance for most of the states in the country. Selangor remains as the main national economic driver as it contributed to 23% of the national GDP, followed by Wilayah Persekutuan Kuala Lumpur with about 15.6%," Wan Azizah said in her opening speech yesterday.
Selangor contributed to 22.7% of national GDP in 2016.
The State Socio-Economic Report and MyLocal Stats are the two publications published by DoSM for the first time, and contain statistics distilled down to the administrative district level.
The reports showed that there were seven states that grew at a faster pace than the national GDP growth of 5.9% in 2017, namely Sabah (8.2%), Melaka (8.1%), Pahang (7.8%), Wilayah Persekutuan Kuala Lumpur (7.4%), Selangor (7.1%), Johor (6.2%) and Wilayah Persekutuan Labuan (6.1%).
Perlis was the state with the lowest GDP growth in 2017 at 2.3%, followed by Sarawak and Negeri Sembilan at 4.7% and 4.9%, respectively.
Penang was the only state that saw slower GDP growth in 2017 at 5.3% compared with 5.6% in 2016.
Six states surpassed the national GDP per capita of RM42,218 in 2017, led by Kuala Lumpur (RM111,321), Labuan (RM65,949), Penang (RM49,873), Sarawak (RM49,327), Selangor (RM48,091), and Melaka (RM46,015).
The state with the lowest GDP per capita was Kelantan at RM13,593.
The report noted that favourable growth was seen in services, manufacturing and agriculture sectors, which helped drive performance in several states in Malaysia. Among them were Pahang, Selangor, Johor, Perak and Kelantan.
Apart from the three sectors, robust performance in the construction sector also spurred the economies of Melaka, which grew by 8.1% in 2017 compared with 4.5% in 2016; Terengganu (5.9% in 2017 from 3.1%); and Negeri Sembilan (4.9% in 2017 from 3.5%).
It also highlighted that Kedah's economy grew 5% (2016: 3.2%), driven by the agriculture and services sectors while Kuala Lumpur expanded by 7.4% (2016: 5.9%), largely driven by the services sector.
In East Malaysia, performance of commodity-based sectors such as agriculture and mining and quarrying helped shape the economic growth. Sabah recorded growth of 8.2% (2016: 4.7%), while Sarawak improved to 4.7% (2016: 2.3%).
On the other side of the equation for economic growth, the report also showed that seven states experienced higher inflation than the national inflation rate of 3.7% in 2017. Johor and Negeri Sembilan saw the highest increase in the consumer price index (CPI) at 4.2%, followed by Melaka at 4.1%, Penang at 4% and Selangor, Kedah, and Perlis which experienced an inflation rate of 3.9%.
Sabah, Sarawak and Labuan saw the lowest rate of inflation at 3%, followed by Pahang and Terengganu at 3.1% each.
Other than the State Socio-Economic Report, MyLocal Stats also provided more than 150 statistical variables at the district level and could be assessed through downloadable publications from the DoSM portal or through "My Local Stats" mobile application.
According to chief statistician Malaysia, Datuk Seri Dr Mohd Uzir Mahidin, the Sustainable Development Goals 2030 has been a game changer to the industry, driving the department to prepare more detailed and comprehensive statistics to measure the progress of the nation.