This article first appeared in The Edge Financial Daily, on October 7, 2019.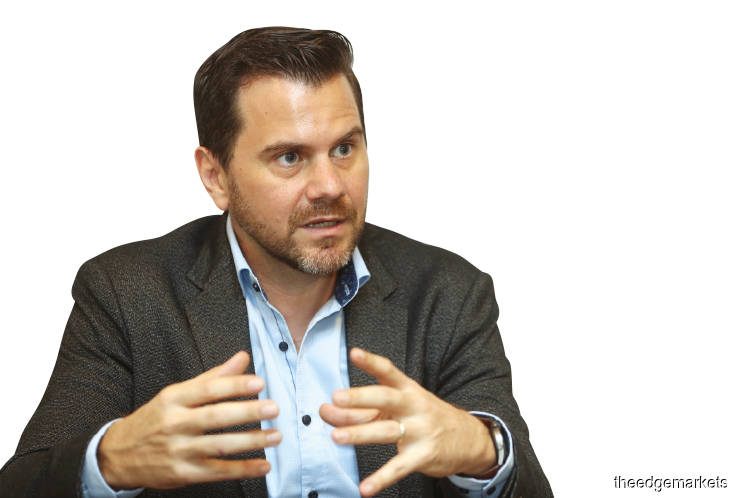 KUALA LUMPUR: After years of grappling with fluctuating returns, Sedania Innovator Bhd sees 2020 as a turning point for the technology company, where profits will be sustainable going forward.
The ACE Market-listed company, which turned in a net profit of RM1.57 million for the financial year ended Dec 31, 2017 (FY17), fell back into the red with a RM4.36 million net loss last year. This was on the back of a 54.8% year-on-year decline in revenue to RM12.34 million for FY18.
Chief executive officer (CEO) Daniel Bernd Ruppert blamed the weak results for FY18 on the adoption of MFRS (Malaysian Financial Reporting Standards) 9, which saw the group making an impairment of RM2.83 million on certain trade and finance lease receivables.
"Stripping out the impairment loss, we were quite stable operationally last year," the 43-year-old German told The Edge Financial Daily in an interview.
Sedania looks set for a return to profit this year after it swung from a net loss of RM671,000 to a net profit of RM1.26 million for the six-month period ended June 30, 2019 (1HFY19).
"Our internal numbers point to a profitable year. We have so far achieved two quarters of profitability and we remain on track to turn around in FY19," said Ruppert.
On his outlook for 2H, he said it will be like 1H on the back of contributions from the green technology and Internet of things (IoT) solutions segments, which are expected to come through stronger.
"I see 2019 as a turnaround year for Sedania and depending on how the economy goes, I see us achieving a solid profit next year," he said.
Sedania has four core businesses comprising financial technology (fintech), green tech, IoT and airtime-sharing services. Last year, fintech contributed 32.02% to the group's total revenue, followed by airtime-sharing (31.83%), the IoT (31.29%) and green tech (4.86%).
"Because the fintech and airtime- sharing segments are transactional-based, they provide stable income streams. Both are profitable businesses. The number of transactions may vary by 5% each day, but on average it is pretty stable," said Ruppert.
However, contributions from the two segments alone are not enough to lift the group into positive territory.
"As a listed company, we have a lot of holding costs. In order to be continuously profitable, we need contributions from the other segments," he said.
The revenue contribution from the IoT solutions segment this year is expected to be lower as the group did not supply any smart fire alarm systems under the automatic fire monitoring system (SPKA) project in the first half of this year. "However, we expect things to pick up in the current quarter," said Ruppert.
It was reported that in 2015, iScada Net Sdn Bhd won a concession to instal the SPKA systems — which are supplied by Sedania — in all designated commercial premises for five years to December 2021. A check with the Companies Commission of Malaysia showed that iScada Net is 79% — owned by its founder and executive chairman Datuk Saipuddin Ahmad, while the remaining 21% is held by its director Datin Haslina Ismail.
SPKA links designated premises to the nearest fire station. It replaces the computerised fire alarm monitoring and communication system, which is being phased out. However, the SPKA project was among the many projects that came under scrutiny when the Pakatan Harapan government came into power last year.
According to Ruppert, Sedania is an indirect casualty of the project halt. "It has since been clarified that the project was awarded through an open tender and [orders] are slowly picking up again. Everybody also agreed that when it comes to [installing] fire safety systems, it is not a good idea to have multiple vendors."
"So far, we have connected over 7,000 buildings to the Fire and Rescue Department. We have not reached the end. The work is still continuing but the order volume for our SPKA systems this year is less [due to the project review] and it will take some time to get back to the normal rotation cycle," he said.
"It becomes really attractive when the numbers go up. If we do at least 1,000 gateways a month, then it is quite substantial money. We are not hitting that number now. It fluctuates," he added. For FY18, the IoT segment posted RM3.1 million in pre-tax loss, which partly dragged Sedania to a loss.
Much also depends on what the government designates as premises that would be required to link their fire alarm system to the Fire and Rescue Department through SPKA. Ruppert cited the 40,000-odd gas stations in the country as potential targets for SPKA systems.
Still, learning from past incident, the group has moved away from relying solely on the SPKA project to venture into the consumer market with ASAP — a fire alarm device that connects to Sedania's control centre through consumers' broadband connection, which will then alert the Fire and Rescue Department.
"We are now talking to telecommunications companies and property developers, who are interested to bundle our IoT device with their products. ASAP will probably be available in the market before the end of the year," he said.
Exciting times ahead
Ruppert expects Sedania to have a more sustainable growth path from 2020, as ASAP gains traction and overall sales become more stable. "We are getting there (sustainable profit). There won't be big spikes in our returns as we gradually move away from the project-oriented income streams to the more stable transaction-based income streams."
This year, the group's revenue will be driven by growth from the green tech and fintech segments. Sedania is expecting revenue generated by green tech to surpass that from the IoT.
"Under green tech, we are currently providing energy saving devices to major clients such as Telekom Malaysia Bhd and a large financial institution, which help their sites/branches save 23% of total energy bill," Ruppert said, adding that these contracts provide stable income streams to the group.
In June, it teamed up with NV Turbulent from Belgium to venture into the renewable energy market in Malaysia through the construction of micro-hydro turbines.
"With micro-hydro turbines, we can provide potential customers cheaper electricity, with minimal ecological impact. It is also silent and does not disrupt or change the flow of the river."
Ruppert said a typical Sedania-Turbulent micro-hydro turbine installation will require a circumference of 3m at the side of the river and a water volume flow of three cubic metres per second in order to generate 40kW of electricity, which is sufficient to power 40 to 100 homes throughout the day.
"We are talking to oil palm plantation companies, state governments and the ministry of rural development to instal micro-hydro turbines in rural areas such as villages, agricultural, farming and palm plantations throughout Malaysia. These areas are not currently connected to the national electricity grid and are reliant on diesel generators," he added.
Last Thursday, Sedania announced that it had entered into a share subscription agreement with iCandy Interactive Ltd and Michael Broda to venture into the electronic sports (e-sports) businesses through special purpose vehicle Esports Pte Ltd. Sedania and iCandy will own 42.55% each in Esports, while Broda will own the remaining 14.9% stake.
Under the collaboration, Esports will launch a global e-sports tournament and media network in early 2020 for tournaments, media brands, publishers, teams and players with a focus on community and digital interactivity.
"We are expecting dividends from our investment [in e-sports] in the mid-term future. The e-sports market is becoming a global high growth market that combines the game industry, digital platforms and media. The investment secures Sedania access to a lead position in the Asian market," he said.
Sedania shares closed five sen or 41.67% higher at 17 sen last Friday, with a market capitalisation of RM42.23 million. The stock has fallen 26% from its 2019 peak of 23 sen on April 12.