This article first appeared in Capital, The Edge Malaysia Weekly, on December 31, 2018 - January 06, 2019.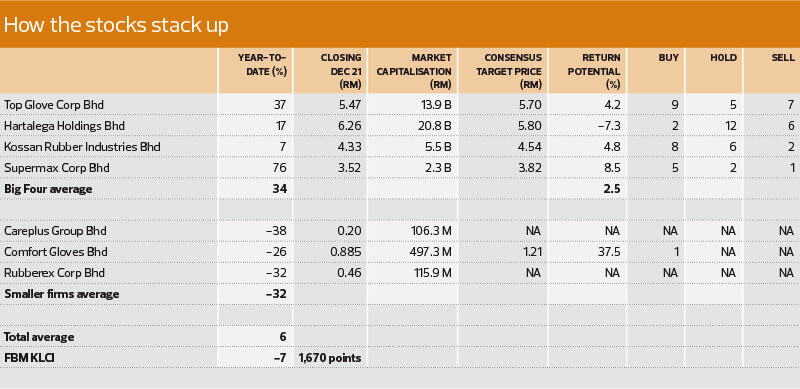 RUBBER glove manufacturing may not be a sexy business but it is certainly a defensive one, considering that the product is becoming increasingly important in various applications, including household use, personal care and food services.
In a year when investors will remember more downs than ups, it would be an overstatement to say Malaysian rubber glove makers delivered a superb performance but shareholders of Top Glove Corp Bhd, Hartalega Holdings Bhd, Kossan Rubber Industries Bhd and Supermax Corp Bhd can still count their blessings as the share prices of these companies have held up well.
Over the past 12 months, Supermax, Top Glove, Hartalega and Kossan saw their share prices gain 76%, 37%, 17% and 7% respectively. These companies are dubbed the Big Four, given their sizeable market capitalisation of more than RM1 billion.
On average, the share prices of the Big Four have risen 34% year to date (YTD) whereas those of their three smaller rivals, namely Careplus Group Bhd, Comfort Gloves Bhd and Rubberex Corp Bhd, have declined 32%.
The Big Four saw their share prices climb higher in 2018 but their strong performance was offset by Careplus, Rubberex and Comfort Gloves, whose share prices fell 38%, 32% and 26% respectively.
On average, the seven rubber glove counters on Bursa Malaysia have advanced 6% YTD. In comparison, the FBM KLCI had fallen 7% at its close of 1,670 points on Dec 21, near its 52-week low.
A quick check on Bloomberg shows that the Big Four offer an average upside potential of only 2.5% to their median target prices set by analysts.
Supermax, already the top gainer among the rubber glove stocks in 2018, still boasts the highest upside potential among the Big Four of 8.5%.
Kossan and Top Glove offer an upside potential of 4.8% and 4.2% respectively but Hartalega seems to have overshot by 7% based on analysts' consensus target prices.
It is Comfort Gloves that offers the best upside potential, at 37.5%, significantly higher than that of the Big Four collectively. But it should be noted that Comfort Gloves is tracked by just one research house, which has a "buy" call on the company.
Supermax seems to be the most favoured rubber glove stock at the moment with five "buy", two "hold" and one "sell" recommendations.
Kossan also looks defensive with eight "buy", six "hold" and two "sell" calls.
Analysts' opinions are mixed on Top Glove with nine "buy", five "hold" and seven "sell" recommendations.
As for Hartalega, 12 research houses have a "hold" call on it and six have a "sell" while two maintain their "buy" recommendation.
Although gas prices will be higher in 2019, RHB Research Institute has maintained its "overweight" call on the glove sector. Natural gas cost comprises 10% to 15% of total cost for the glove players it covers but it says the increase is small at 0.7% and is likely to be neutralised by a decline in the prices of raw materials, such as natural rubber and nitrile butadiene.
"In the long run, glove players are able to pass through any cost fluctuation to consumers, hence the impact of an increase in gas prices would be minimal," the research house says, adding that the sector is a safe harbour in volatile times.
In a Nov 8 report, PublicInvest Research analyst Chua Yi Jing says despite the resilient demand, the research firm maintains its "neutral" call on the sector as she believes growth has already been priced in at current levels.
"We expect healthy global glove demand of about 8% per annum, given that it is an essential item in the healthcare industry. We note that there is a risk of overcapacity in the industry, depending on the pace of the glove players commissioning their production lines after the completion of factory construction. That said, the risk should be manageable and mitigated by the slowing down in expansion plans in order to match market demand," says Chua.
Considering the still strong appetite for glove stocks, UOB KayHian research analyst Philip Wong, who maintains an "underweight" recommendation on the sector, advises investors to sell on strength.
Although their performance was lukewarm in 3Q2018, the share prices of glove makers are generally steady. While their top line has been encouraging, bellwether Hartalega displayed the first signs of contracting Ebitda margins.
"All the glove manufacturers' share prices have held up well as the market has long regarded the glove sector as a safe haven, more so throughout the market turbulence of late. (But) moving forward, there is a rising threat of slower demand as we observe tapering forward orders," Wong warns in a Dec 10 report.
"Although the market has developed an affinity for export-related stocks, our tactical bear call on the sector is intact, seeing glove players are already priced at lofty valuations and, hence, are vulnerable to any negative developments."
Click / Tap image to enlarge
Save by subscribing to us for your print and/or digital copy.
P/S: The Edge is also available on Apple's AppStore and Androids' Google Play.