This article first appeared in Forum, The Edge Malaysia Weekly, on July 3, 2017 - July 09, 2017.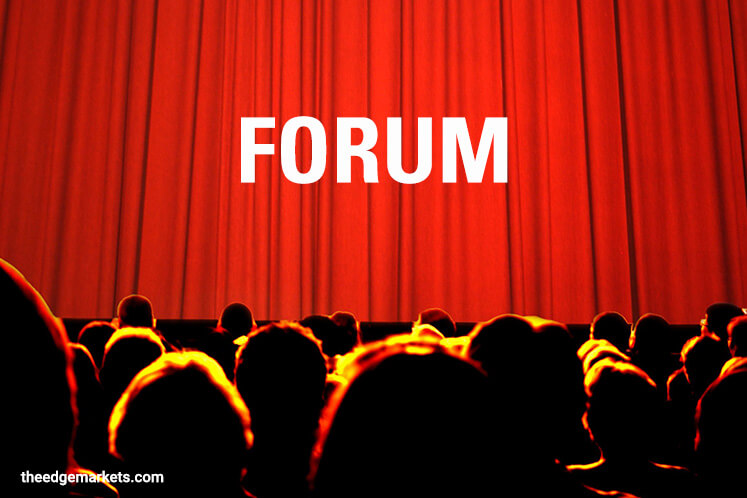 On June 17, Datuk Seri Anwar Ibrahim announced he was not offering himself as the Pakatan Harapan (PH) candidate for prime minister in the 14th general election (GE14). Many were saddened by the news, but they fully understood the background to it. To me, this announcement shows that Anwar is a statesman, not just a politician.
However, he remains PH's No 1 candidate for prime minister, perhaps not for now; but in politics, nothing is certain.
The announcement was timely. It paves the way for the opposition grouping to finalise its organisational structure for its registration with the Registrar of Societies and, in due course as suggested by many, name a candidate for prime minister to show that it is moving on.
Besides that, I am particularly attracted to one sentence in Anwar's statement —  "we (previously Pakatan Rakyat and now, PH) uphold the idea of new politics". This is because I have written two books on this topic: New Politics: Towards a Mature Malaysian Democracy (2008) and New Politics 2.0: Multiracial and Moderate Malaysian Democracy (2017).
The results of GE10 in 1999 showed that something new was happening in Malaysian politics. Some analysts began to use the term "new politics". At least two books were published on this.
The first is Politik Baru dalam Pilihan Raya Umum (New Politics in General Elections), edited by Mohd Yusof Kasim and Azlan Ahmad (2002). According to the essays in this book, GE10 shows that Malaysian politics had entered a new era capable of bringing bigger changes in the nation's future political development.
The second, New Politics in Malaysia — a compilation of essays — is edited by Francis Loh Kok Wah and Johan Saravanamuttu (2003). They argue that a "new politics" was in the offing in Malaysia through an ongoing process of contestation involving civil society in non-formal realms. The book elaborated what this sort of new politics portends well for the future.
Later, both Loh and Saravanamuttu articulated their views on this "new politics" in two of their books. In 2009, Loh wrote Old vs New Politics in Malaysia: State and Society in Transition, in which he states that old politics was essentially ethnic-based and characterised by money politics while new politics demands more democratic participation and social justice, accountability and transparency, and is more multi-ethnic in orientation.
Last year, Saravanamuttu, in his book, Power Sharing in a Divided Nation: Mediated Communalism and New Politics in Six Decades of Malaysia's Elections, states that the term "new politics", a corollary of the Reformasi Movement, has now earned considerable currency in the Malaysian studies literature. It has been associated with the wave of democratisation in Malaysia that saw the salutary engagement of ordinary citizens in the electoral process alongside an unprecedented level of political activism.
In analysing the events around the sacking of Anwar as deputy prime minister and his incarceration, Saravanamuttu states, "This opened the floodgates of a participatory new politics. This new ... politics was symbolised by the Reformasi Movement, which sparked unprecedented multi-ethnic and cross-ethnic engagement in politics on the part of civil society and oppositional forces. In this book, I used the term 'new politics' as a modality rather than an outcome to denote an ongoing participatory politics of civil engagement in the public sphere with the objective of valorising democratic values and human rights over and above ethnic interests. New politics, however, does not necessarily supersede the need for political actors, particularly political parties, to deploy stratagems of mediated communalism for electoral success."
According to him, "The developments associated with new politics spilled over on to the electoral process. The political shift that occurred with the surfacing of such politics in the late 1990s culminated in the political watershed of the March 8 general election of 2008. At this juncture, it became obvious that with the rise of a coherent united opposition and the alternative alliance of the PR (Pakatan Rakyat/People's Alliance)*, Barisan Nasional's mediated communalism was seriously challenged."
Today, new politics is a phenomenon in many countries around the world, including in the Muslim world. Ted Piccone, a former senior foreign policy adviser in the Clinton administration, expounds on India, Brazil, South Africa, Turkey and Indonesia in his book Five Rising Democracies and the Fate of the International Liberal Order (2016), noting them as states emerging from colonialism, apartheid and/or military dictatorship (previously supported by the West) but now firmly rooted in constitutional democracy and appearing to be on an irreversible path to deeper democracy. Authors of Islam and Democracy After the Arab Spring (2015), John L Esposito, Tamara Sonn and John Obert Voll, talk about "the new politics of a possible fourth wave of democratisation becoming globally visible following the events of the Arab Spring and subsequent developments in the Middle East".
I think, for Anwar, new politics started when he resigned as president of Muslim Youth Movement of Malaysia (ABIM) to join Umno in 1981. It was a path less travelled because, usually, Islamic leaders do not join a "secular" and "nationalist" party like Umno. Anwar joined Umno to reform the party from within. Later, he started the Reformasi Movement and led it to its success — considered "unprecedented" by Saravanamuttu. Today, as founder of the World Forum for Muslim
Democrats, Anwar is a leading figure in championing the idea of the "Muslim Democrat".
(*Pakatan Rakyat was formed on April 1, 2008.)
---
Datuk Saifuddin Abdullah is chief secretary of Pakatan Harapan and director (strategic and social development) of Institut Darul Ehsan. He is active on Twitter: @saifuddinabd.