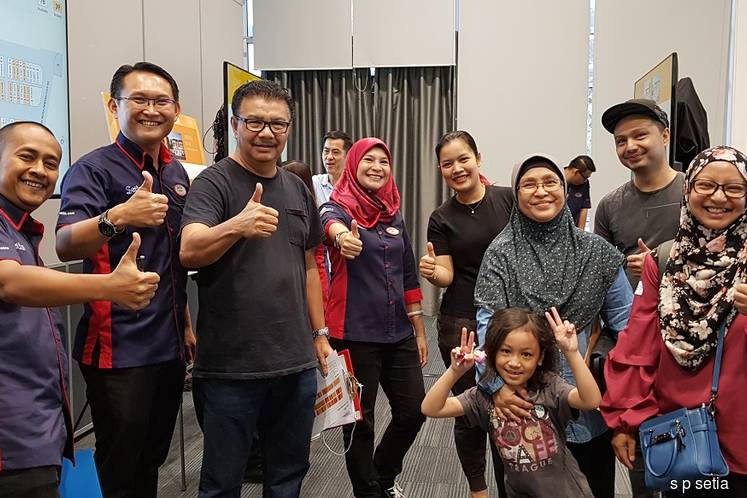 PETALING JAYA (March 22): The second product under Setia Alam's Starter Homes series — Adina recorded more than 90% of take-up rate on the launch day.
With prices starting from RM492,900, Adina consists of 117 units of 18ft by 65ft 2-storey terraced houses with built-ups from 1,487 sq ft, according to a press release by S P Setia Bhd today.
"The objective of the Starter Homes series is to give both first-time buyers and those looking to upgrade the chance to own a freehold landed residence in a thriving community," said Bandar Setia Alam Sdn Bhd general manager Tan Siow Chung.
"We also made it as easy to own as possible with our attractive promotional package together with a 36-month Easy Payment Plan which proved to be a success with new buyers," he added.
The Adina Starter Home series is the first S P Setia project to offer the 1-Minute Home Financing — the recently-launched instant approval scheme by CIMB Bank.
According to the developer, Adina offers beautiful façades and practical layouts.
Customers can choose between two contemporary designs, offering either three or four bedrooms as well as three bathrooms.
The seamlessness of the open-plan living and dining areas further enhance the spacious feel of these homes.
Each house also has an eight-foot backyard which is renovation-ready.
While the space can be used as a drying area, it can also easily accommodate an extension as the foundation and slab have already been laid in.
Adina, like all the precincts in Setia Alam, is safeguarded by perimeter fencing and natural barriers of hedges and streams.
The single access point is monitored by security guards.
Starter Homes' residents will benefit from all the amenities within the 2,525-acre self-contained township of Setia Alam which has been developed since 2004.
Adina's launch follows Careya, the first of the Starter Homes series, which comprises 93 units of 20ft by 65ft 2-storey terraced homes with built-ups from 1,677 sq ft.
With prices starting from RM585,000, the units were sold out on the day they were launched.