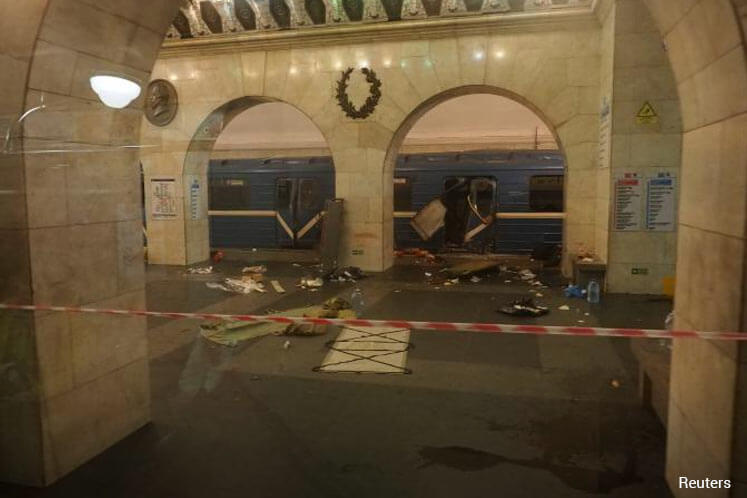 MOSCOW (April 3): Russia has issued search warrants for two people for their possible role in Monday's deadly metro blast in St Petersburg, Interfax quoted a security source as saying.
"Two people are being sought on suspicion of planning the blasts, one of whom is thought to have placed the explosive device in the metro wagon and the second person for leaving a bomb at the metro station 'Ploshchad Revolutsii'," the source told Interfax.
Russian online news outlet Fontanka has published the photo of a person whom it said police were seeking over Monday's deadly blast on board a St Petersburg metro train.
The grainy photo shows a middle-aged man with a beard and wearing a black hat.
Fontanka said the man had entered "Petrogradskaya" station 20 minutes before the blast happened on board a train, killing at least nine people.
Interfax news agency earlier quoted a source as saying that surveillance cameras had captured photos of the blast suspect.
Russia's state investigative committee said on Monday it had opened a criminal case over the St Petersburg metro blast on charges of a terrorist act.
The agency, which has sweeping powers, said it had sent a group of investigators to St Petersburg to look into the incident which killed at least nine people.
It said however that while it had opened a case under charges of terrorism, it would consider all other possible causes of the incident.
Russian security agencies found an explosive device at a metro station in central St Petersburg and made it safe, the National Anti-Terrorist Committee said in a statement on Monday.
The device was found at the "Ploshchad Vosstaniya" metro station, a different location from where a blast earlier took place.