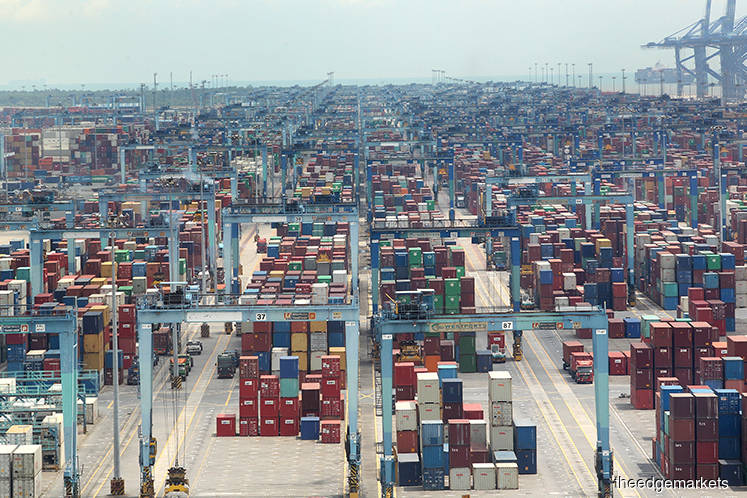 KUALA LUMPUR (Oct 15): Affin Hwang Capital Research said Budget 2020 has had minimal impact on the transport and logistics sector.
In a note today, the research house said plans to develop Port Klang bode well for the Westports 2 project, as the port is expected to reach its full capacity in five years.
According to Affin Hwang, Westports Holdings Bhd is in the midst of finalising the detailed plans for its massive expansion project, Westports 2, which should near double its capacity to 27 million TEUs (from 14 million TEUs currently).
"We expect the project to receive the government's greenlight ahead of the Carey Island project (if deemed feasible) as Westports 2 has relatively lower capex and a shorter development period," it said.
Affin Hwang said in view of Visit Malaysia (VMY) 2020, the government's target to attract 30 million tourist arrivals in 2020 looked achievable.
"Tourists during the VMY 2020 campaign should support airports and airlines revenue especially due to the weak ringgit (relative to the US dollar and some ASEAN peers)," it said.
Meanwhile, Affin Hwang's economics team has lowered its Brent crude and ringgit projections. This is in view of a more modest oil-demand outlook, normalisation of supply from Saudi Arabia and not-so-aggressive easing by the US Federal Reserve.
"We are raising AirAsia 2020-21 earnings forecasts by 2-3% and expect lower losses (2020E) from AirAsia X after incorporating a lower oil-price assumption of US$63/bbl (from US$68/bbl), partly offset by a weaker ringgit forecast of RM4.20/US dollar," said the research firm.
Affin Hwang has upgraded AirAsia X to Hold (from Sell) on valuation grounds and recommended to Hold Westports for its strategically located assets, strong management team and good earnings growth trajectory.
"Avoid logistics companies (Sell on Tiong Nam Holdings Bhd and CJ Century Logistics Holdings Bhd) due to stiff competition and rising costs," it said.