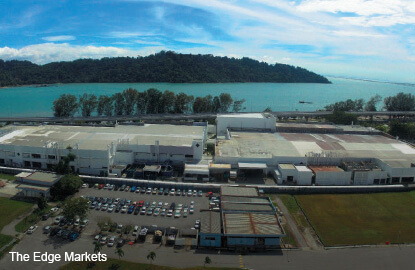 This article first appeared in
The Edge Malaysia Weekly
, on January 9 - 15, 2017.
US-based disk storage solutions firm Seagate Technology Plc, which is in the process of shutting down its manufacturing facilities on Penang Island and in Negeri Sembilan, is hoping to dispose of them for a total of RM130 million.
The closure of the plants is in line with Seagate's global restructuring strategy, which includes relocating some of its Malaysian operations to Korat, Thailand. It was previously reported that Seagate was winding up its operations in Penang and Negeri Sembilan owing to weak demand.
However, Seagate will continue to operate its facility in Senai, Johor.
Real estate consultant Knight Frank Malaysia has been appointed to obtain buyers. "Knight Frank has been appointed as the exclusive agent and will start the marketing exercise by end-January," its executive director Allan Sim tells The Edge.
Sim says the sale of the Penang asset, located in Bayan Lepas Industrial Park, will be by way of expression of interest (EOI) while the one in Senawang Industrial Park, Negeri Sembilan, will be via private treaty. An EOI is non-binding as both parties can decide not to proceed with the deal while in a sale via private treaty, the agent will negotiate directly with potential buyers.
The Penang manufacturing facility, held by Penang Seagate Industries (M) Sdn Bhd, has a built-up of 430,000 sq ft and sits on a 12.32-acre leasehold parcel. Its neighbour is US-based Plexus Manufacturing Sdn Bhd, an electronics design and manufacturing firm. Across the road is Knowles Electronic (M) Sdn Bhd, a unit of US-based Knowles Corp, a global supplier of advanced micro-acoustic, audio processing and speciality component solutions.
The 1,285-acre Bayan Lepas Industrial Park was planned in four phases in the early 1970s. Set up in 1988, Seagate's facility is one of the earliest components of the park.
"The history of this facility goes backs 28 years. However, it is very well maintained and is considered one of the more prominent premises in the Bayan Lepas Industrial Park," says Knight Frank Penang's executive director Tay Tam.
He explains that there is easy access to the airport and the seaport. "Seagate's facility features high visibility compared with other industrial facilities in the Bayan Lepas Industrial Park as it has a long, prominent frontage along the Tun Dr Lim Chong Eu Expressway," he adds.
According to Knight Frank Malaysia's Sim, the 290,000 sq ft plant in Senawang Industrial Park sits on a 6.49-acre freehold parcel. The land was earlier held by Xyratex (Malaysia) Sdn Bhd, a unit of Xyratex Ltd. Seagate purchased the latter in 2014 and renamed the former Seagate Systems (Malaysia) Sdn Bhd.
Sim says the Penang asset could fetch as much as RM100 million while the one in Negeri Sembilan could fetch RM32.5 million. "This is based on recent transactions."
"In Bayan Lepas industrial Park, Motorola Solutions Malaysia sold its 11.73-acre facility to Sanmina-SCI Systems (M) Sdn Bhd in October 2015 for RM65.5 million, with 38 years left on the lease. Another transaction was US-based Fairchild Semiconductor's sale of its 11.45-acre facility to B.Braun Medical Industries Sdn Bhd for RM64.31 million." The second transaction involved three parcels with leases expiring in 17, 20 and 26 years.
In Senawang Industrial Park, a recent transaction was Goodmaid Chemicals Corp Sdn Bhd's purchase of a 1.9-acre parcel for RM6.3 million.
Both manufacturing facilities are scheduled to shut down in June and the new owners can take possession in September.
Based on Penang Seagate's most recent submissions to Companies Commission of Malaysia, in the financial year ended July 3, 2015 (FY2015), it posted revenue of RM873.85 million and a net profit of RM54.56 million. The company's accumulated profit stood at RM595.06 million while its total liabilities were RM210.72 million.
Seagate Systems (Malaysia) Sdn Bhd, meanwhile, posted revenue of RM1.03 billion and net profit of RM65.08 million in the same financial year. The company reported a profit of RM352.99 million. Total liabilities, all of which were current, were RM114.41 million.