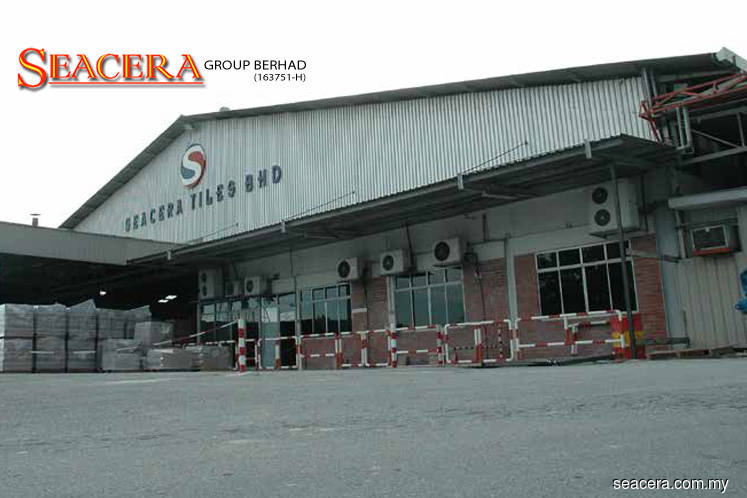 KUALA LUMPUR (Dec 2): Seacera Group Bhd has confirmed that it had lodged a police report against certain attendees of its recent annual general meeting (AGM) on Nov 29, 2019 for causing a commotion.
In a bourse filing, the group said it had lodged a police report immediately after the conclusion of its AGM last month against a number of attendees who had intended to disrupt its AGM and had caused a commotion.
"This happened when one of the Attendees (Attendee A) viewed a polling paper held by the Poll Administrator, and subsequently raised a piece of paper and made an accusation that the paper (the alleged polling paper) was fake," the group said.
According to Seacera, Attendee A had refused and failed to produce the alleged polling paper to the chairman or the Scrutineer of the AGM for verification.
Instead, Attendee A had handed over the alleged polling paper to another attendee at the AGM. Consequently, a commotion broke out and the stewards stepped in to ensure the meeting continued to be in order.
However, another AGM attendee (Attendee B), who Seacera said was aligned with Attendee A, had stolen a camera which the group had placed at the venue where the AGM was held, for record-keeping purposes.
"Threats were uttered by some of the attendees there [that] were aligned with Attendee A," the tile manufacturer said.
Seacera's filing was made in response to an article that appeared in StarBiz entitled "Shareholder Fight", which reported that "The foretelling of 'fighting' at the AGM of Seacera Group Berhad was expected. Press reports last week of a fiery atmosphere came true based on video clips that were circulated…"
Control of the tile manufacturer is currently subject to a board room tussle.
On Nov 12, 2019, non-executive director Ishak Ismail nominated Abdul Razak Jamaludin, Mohamad Safwan Abdul Malek, Rozaidi Baharudin and Rozana Ismail to be elected to Seacera's board of directors.
Earlier last month, on Nov 5, four Seacera shareholders who hold a collective 2.5% stake — Ng Wai Yuan, Datin Sek Chian Nee, Low Swee Foong and Datuk Tan Wei Lian — had issued a notice of resolutions to be decided upon at the AGM entailing the nomination of six new directors.
The six were Rizvi Abdul Halim, Datin Ida Suzaini Abdullah, Marzuki Hussain, Tan Lee Chin, Ong Eng Taik and Ramnath R Sundaram.
Based on the results of the polling from the AGM, 66.7% of shareholders voted against the election of Abdul Razak, Mohamad Safwan and Rozana. However, 54.06% of them voted in favour of appointing Rozaidi.
Meanwhile, Rizvi was not elected with 53.74% of shareholders voting against. Ida, Marzuki, Tan, Ong and Ramnath were also not elected as directors with 54.08% of votes voted against their appointments.
At 3.53pm, Seacera shares rose 1 sen or 3.23% to 32 sen, valuing the tile manufacturer at RM153.8 million. The counter saw 13.42 million shares traded.