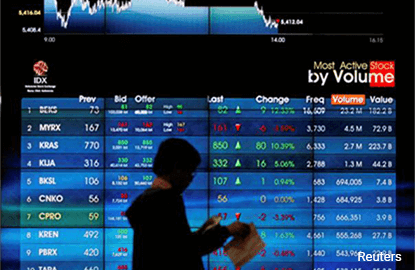 (March 7): Southeast Asian stock markets ended little changed in dull trade on Tuesday as investors were cautious ahead of a widely expected  interest rate hike by the US Federal Reserve next week amid concerns about President Donald Trump's economic policies.
Fed Chair Janet Yellen has signalled that the central bank might raise interest rates at its next meeting on March 14–15, and may move faster after that than it has in years.
"After Janet Yellen's speech last week, the market will be ready for a rate hike when the US Federal Reserve meets next week unless this Friday's jobs report is a disaster," Net Research Asia, a Singapore-based equity research house, said in a note.
The US monthly jobs report on Friday includes non-farm payrolls, seen rising by 190,000 in a Reuters poll.         
US stocks pulled back on Monday as investors grew uneasy over uncertainties around Trump's economic agenda.
Philippine shares snapped three sessions of gains, dragged down by consumer and industrial stocks with SM Investments Corp losing 1.5%. The biggest loser was conglomerate LT Group Inc with a drop of 4%.
The Philippine central bank governor said on Tuesday that the banking regulator saw no reason to change its monetary policy stance even after inflation picked up to its fastest pace in 27 months in February.
Consumer prices rose 3.3% but was within the range the central bank had expected, the statistics agency said.
"The Philippine inflation data has minimal impact," said Mikey Macainag, an analyst with Manila-based Sunsecurities Inc, adding that everybody was looking for a Fed rate hike.
Singapore shares rose after two sessions of falls, buoyed by financials and industrials. Real estate company CapitaLand Ltd gained 2.3%, while automotive conglomerate Jardine Matheson Holdings Ltd climbed 0.6%.
Thailand shares fell for a third consecutive session, dragged down by consumer stocks.
SOUTHEAST ASIAN STOCK MARKETS
Change on day
| | | | |
| --- | --- | --- | --- |
| Market            | Current      | Previous close  | % move |
| Singapore         | 3130.44      | 3121.51         | 0.29 |
| Bangkok           | 1549.87      | 1553.61         | -0.24 |
| Manila            | 7294.52      | 7313.87         | -0.26 |
| Jakarta           | 5402.615     | 5409.817        | -0.13 |
| Kuala Lumpur      | 1728.66      | 1727.36         | 0.08 |
| Ho Chi Minh       | 716.54       | 716.29          | 0.03 |
Change on year
| | | | |
| --- | --- | --- | --- |
| Market            | Current      | End 2016        | % move |
| Singapore         | 3130.44      | 2880.76         | 8.67 |
| Bangkok           | 1549.87      | 1542.94         | 0.45 |
| Manila            | 7294.52      | 6840.64         | 6.6 |
| Jakarta           | 5402.615     | 5296.711        | 2.00 |
| Kuala Lumpur      | 1728.66      | 1641.73         | 5.30 |
| Ho Chi Minh       | 716.54       | 664.87          | 7.8 |