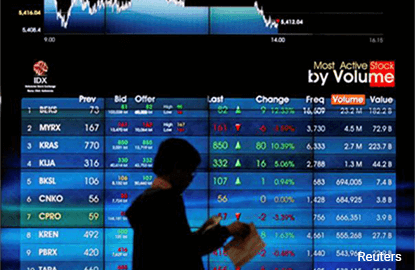 (Feb 21): Southeast Asian stock markets, except Vietnam, were subdued on Tuesday due to a lack of global cues ahead of the release of minutes from a US Federal Reserve meeting and a series of speeches by Fed officials this week.
The heads of five regional US Fed branches are scheduled to speak this week. In addition, Fed Board Governor Jerome Powell speaks on Wednesday, when minutes of the last Federal Open Market Committee meeting are also due.
The Fed will likely need to raise interest rates at its upcoming policy meeting in March, Chair Janet Yellen said last week, although she flagged considerable uncertainty over economic policy under the Trump administration.
"I think investors right now are in a 'wait and see' moment between Trump's tax plan announcement and the Fed meeting next month," said Victor Felix, equity analyst at AB Capital Securities.
US President Donald Trump plans to announce the most ambitious tax reform plan since the Reagan era in the next few weeks, the White House said earlier this month, without offering specifics other than citing the need for a lower tax burden on businesses.
"There is also the Brexit trigger next month political risks... so I guess that's keeping investors trading cautiously," said Felix.
The British government plans to trigger Article 50 of the EU's Lisbon Treaty by the end of March, which will formally kickstart its exit process from the European Union.
Singapore shares were down 0.1%, hurt by consumer staples and industrials.
Golden Agri-Resources Ltd slumped 5.9%, while Keppel Corp edged 1.1% lower.
Philippine shares trimmed earlier losses to end flat.
"We are expected to be trading sideways for the rest of the week because of a lack of actionable events," Felix said.
Indonesia ended 0.3% lower, while Malaysian shares dropped 0.4%.
The Thai index slipped 0.9%, snapping four straight days of gains.
Bucking the trend, Vietnam hit a fresh nine-year closing high, boosted by real estate stocks and consumer staples.
Property firm Vingroup JSC hit a record high, while Hanoi Beer Alcohol and Beverage Joint Stock Corp rose 5.4%.
SOUTHEAST ASIAN STOCK MARKETS
Change on day
| | | | |
| --- | --- | --- | --- |
| Market           | Current  | Previous close  | % move |
| Singapore        | 3094.19  | 3096.69         | -0.08 |
| Bangkok          | 1564.42  | 1578.47         | -0.89 |
| Manila           | 7282.68  | 7281.19         | 0.02 |
| Jakarta          | 5340.99  | 5359.288        | -0.34 |
| Kuala Lumpur     | 1706.55  | 1712.58         | -0.35 |
| Ho Chi Minh      | 716.55   | 710.59          | 0.84 |
Change on year
| | | | |
| --- | --- | --- | --- |
| Market           | Current  | End 2016        | % move |
| Singapore        | 3094.19  | 2880.76         | 7.41 |
| Bangkok          | 1564.42  | 1542.94         | 1.39 |
| Manila           | 7282.68  | 6840.64         | 6.46 |
| Jakarta          | 5340.99  | 5296.711        | 0.84 |
| Kuala Lumpur     | 1706.55  | 1641.73         | 3.95 |
| Ho Chi Minh      | 716.55   | 664.87          | 7.77 |