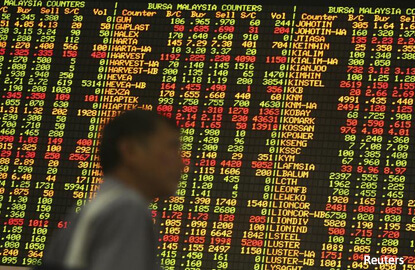 (March 8): Southeast Asian stock markets were subdued on Wednesday as caution prevailed ahead of the US Federal Reserve's meeting next week where it is widely expected to raise interest rates.
Investors are awaiting cues on the US economy along with the government's payrolls report for February, which is due on Friday, to determine whether a rate hike at the upcoming meeting is a done deal.
"Investors are booking profits across the market in anticipation of a rate hike. We are seeing some sourness in sentiment from Wall Street's losses last night as well," said Theodore Tan, an analyst with AP Securities.
US stocks closed lower on Tuesday as weakness in drug and financial shares sent the S&P 500 and the Dow Jones Industrial Average to their first consecutive sessions of declines in more than a month.
"Asian shares have risen for the past six weeks, so some amount of profit-taking is normal," Tan added.
Thai shares came off two-month lows to close marginally higher, buoyed by energy stocks. Oil majors PTT Pcl and PTT Exploration and Production Pcl gained 1.3% and 0.6% respectively, after investors actively bought shares of the two blue chip companies, analyst said.
Financials were the biggest losers, with Group Lease Pcl diving 25.52% to its lowest close since Oct 13.
Led by financials, Singapore shares ended 0.5% higher after a flat opening.
The three big Singapore banks rose between 0.7% and 1%, while exchange operator Singapore Exchange climbed 1.5%.
Philippines shares ended flat, with telecom stocks gaining the most. PLDT Inc rose 6.6% after it issued a robust full-year outlook, while Globe Telecom climbed 4.7%.
SOUTHEAST ASIAN STOCK MARKETS
Change on day
| | | | |
| --- | --- | --- | --- |
| Market             | Current      | Previous close      | % move |
| Singapore          | 3145.29      | 3130.44       | 0.47 |
| Bangkok            | 1551.73      | 1549.87       | 0.12 |
| Manila             | 7294.56      | 7294.52       | 0.00 |
| Jakarta            | 5393.764     | 5402.615      | -0.16 |
| Kuala Lumpur       | 1725.54      | 1728.66       | -0.18 |
| Ho Chi Minh        | 716.6        | 716.54        | 0.01 |
Change this year
| | | | |
| --- | --- | --- | --- |
| Market             | Current      | End 2016      | % move |
| Singapore          | 3145.29      | 2880.76       | 9.18 |
| Bangkok            | 1551.73      | 1542.94       | 0.57 |
| Manila             | 7294.56      | 6840.64       | 6.63 |
| Jakarta            | 5393.764     | 5296.711      | 1.83 |
| Kuala Lumpur       | 1725.54      | 1641.73       | 5.10 |
| Ho Chi Minh        | 716.6        | 664.87        | 7.78 |