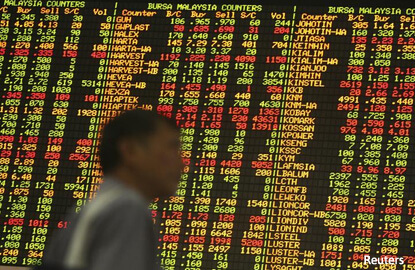 (Feb 21): Southeast Asian stock markets, except Vietnam and Indonesia, were tepid on Tuesday tracking Asian markets which were steady on a lack of global cues, with US markets closed for the Presidents Day holiday on Monday.
Asian stocks held below 19-month peaks hit last week though Chinese equities surged to a fresh two-month high as domestic funds piled into financial counters on expectations the world's second biggest economy may have turned a corner.
MSCI's broadest index of Asia-Pacific shares outside Japan was up 0.1% as of 0505 GMT.
Singapore's FTSE Straits Times Index was down as much as 0.3%, pulled lower by financials and consumer staples.
DBS Group and Oversea-Chinese Banking Corporation lost 0.5% and 0.3%, respectively.
Golden Agri-Resources Ltd, the biggest loser on the index, fell to a nearly five-week low.  
"We see the market being weighed down by lower bank prices. Banks had a huge rally and I think we are seeing a little profit-taking down there," said Nicholas Teo, trading strategist at KGI Securities (Singapore) Pte Ltd.
"(Financials) have rallied the most in the last two-three months and for that to continue to move up, something special needed to happen and that didn't come; so the market is waiting for a catalyst."
Philippine shares slipped as much as 0.3%, with financial and industrial stocks leading the losers.
"We have been trading sideways and there is no direction. Investors are waiting for either a catalyst or a Black Swan event for a significant move up or down," said Victor Felix, equity analyst at Manila-based AB Capital Securities.
BDO Unibank fell as much as 2.1%, its biggest intraday percentage fall in almost three weeks.
Ayala Corp fell 0.6%, while property and retail services business SM Investments Corp dropped 0.4%.
The Thai index was off 0.2%, while Malaysian shares fell marginally hurt by consumer staples and basic material stocks.
Bucking the trend, the Vietnam index rose 0.6%, its biggest intraday percentage gain in more than four weeks, while Indonesia edged up 0.2%.
SOUTHEAST ASIAN STOCK MARKETS
Change at 0446 GMT
| | | | |
| --- | --- | --- | --- |
| Market          | Current       | Previous close  | % move |
| Singapore       | 3092.94       | 3096.69         | -0.12 |
| Bangkok         | 1574.81       | 1578.47         | -0.23 |
| Manila          | 7261.99       | 7281.19         | -0.26 |
| Jakarta         | 5368.845      | 5359.288        | 0.18 |
| Kuala Lumpur    | 1708.6        | 1712.58         | -0.23 |
| Ho Chi Minh     | 714.88        | 710.59          | 0.60 |
Change on year
| | | | |
| --- | --- | --- | --- |
| Market          | Current       | End 2016        | % move |
| Singapore       | 3092.94       | 2880.76         | 7.37 |
| Bangkok         | 1574.81       | 1542.94         | 2.07 |
| Manila          | 7261.99       | 6840.64         | 6.16 |
| Jakarta         | 5368.845      | 5296.711        | 1.36 |
| Kuala Lumpur    | 1708.6        | 1641.73         | 4.07 |
| Ho Chi Minh     | 714.88        | 664.87          | 7.52 |