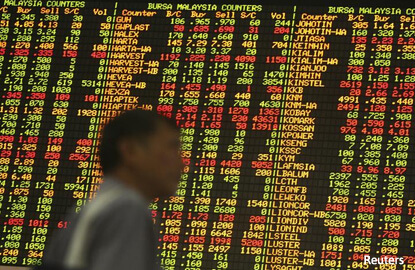 (Jan 20): Southeast Asian stock markets, barring Thailand and Vietnam, were tepid on Friday, as uncertainty over US President-elect Donald Trump's political and economic stance made investors step back from risky assets ahead of his swearing-in ceremony.
Early optimism among business lobbyists and executives that  Trump's election heralded better days has slowly given way to uncertainty as the president-elect fires off mixed and sometimes confusing messages on healthcare, taxes and trade.
Investors are now wondering whether Trump will end up actually being a game changer once he takes office as president later in the US day.
Investors were also wary after Federal Reserve Chair Janet Yellen said on Thursday that the US central bank should continue to raise interest rates slowly to keep jobs plentiful and inflation low.
"The key market driving force today is the rate outlook for the global market. Yellen reiterated her view that the Fed is unlikely to let the US economy turn "hot", which could be translated as the Fed may move ahead of the curve," said Taye Shim, Head of Research at Mirae Asset Sekuritas.
"Given the US economy is running at full capacity, investor concerns are mounting over the fact that Trump's policies might lead the economy to overheat."
In Southeast Asia, Indonesia closed 0.8% lower, with telecom and financial stocks knocking off 0.5% from the index. It slipped 0.35% on week, a second straight weekly loss.
Telekomunikasi Indonesia fell 3.5%.
"Indonesia has been one of the most loved markets across the region. The darlings of the day are now the most hated by investors and with exacerbated capital outflows, Indonesian market is likely to feel the pain greater than its peers," Shim said.
Philippines was down 0.2%, while Malaysia ended marginally lower.
Thai shares gained, with oil majors PTT PCL and Thai Oil PCL leading the energy sector.
The index however slipped 0.8% this week, snapping three straight weeks of gains.
Vietnam shares, up 0.6% on the day, rose 0.2% on week, climbing for a fourth straight week.
SOUTHEAST ASIAN STOCK MARKETS
Change on day
| | | | |
| --- | --- | --- | --- |
| Market            | Current       | Previous close     | % move |
| Singapore         | 3011.08       | 3008.22      | 0.10 |
| Bangkok           | 1562.99       | 1554.88      | 0.52 |
| Manila            | 7232.66       | 7246.08      | -0.19 |
| Jakarta           | 5254.311      | 5298.948     | -0.84 |
| Kuala Lumpur      | 1664.89       | 1666.51      | -0.10 |
| Ho Chi Minh       | 686.26        | 682.31       | 0.58 |
Change this year
| | | | |
| --- | --- | --- | --- |
| Market            | Current       | End 2015     | % move |
| Singapore         | 3011.08       | 2880.76      | 4.52 |
| Bangkok           | 1562.99       | 1542.94      | 1.30 |
| Manila            | 7232.66       | 6952.08      | 4.04 |
| Jakarta           | 5254.311      | 5296.711     | -0.80 |
| Kuala Lumpur      | 1664.89       | 1641.73      | 1.41 |
| Ho Chi Minh       | 686.26        | 672.01       | 2.12 |