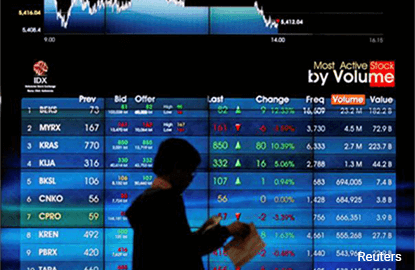 (Jan 20): Most Southeast Asian stock markets marked time on Friday ahead of Donald Trump's inauguration as US president, even though  China posted forecast-beating fourth-quarter economic growth.
Indonesian shares fell as much as 0.7% in their biggest percentage drop since Jan 9, with financials and consumer staples accounting for more than half of the decline.
Bank Central Asia was the biggest negative influence, followed by Unilever Indonesia.
"Trump has not spoken much about his policies, and that has made everyone nervous in the United States," said Harry Su, an analyst with Bahana Securities in Indonesia.
China's fourth-quarter gross domestic product growth came in at 6.8%, versus forecasts of 6.7%, supported by higher government spending and record bank lending.
Investors also took note of US Federal Reserve Chair Janet Yellen's speech where she spoke of a gradual pace of rate hikes, as opposed to rapid hikes, to keep inflation low and jobs plentiful and avoid harming the recovery the Fed has sought to nurture.
"I think that allowing the economy to run markedly and persistently 'hot' would be risky and unwise," Yellen said in remarks prepared for delivery to the Stanford Institute for Economic Policy Research.
MSCI's broadest index of Asia-Pacific shares outside Japan slipped 0.2%, and looked set to end the week 0.1% lower.
Philippine shares were down after two consecutive sessions of gains on across-the-board sell off. Food products company Universal Robina Corp was the biggest loser.
Vietnam shares gained 0.5%, led by consumer staples. Vietnam Dairy Products JSC was the top gainer, up 1.75%, followed by Hanoi Beer Alcohol and Beverage Corp.
Thailand was up 0.3% after opening lower, helped by energy shares which rose on the back of stronger oil prices.
Oil climbed for a second day, underpinned by expectations of tighter supply and on reports of record Chinese demand, but prices remained under pressure from rising US crude and gasoline inventories.
Oil majors PTT PCL led the gains in the sector, followed by Thai Oil PCL.
SOUTHEAST ASIAN STOCK MARKETS
Change at 0426 GMT
| | | | |
| --- | --- | --- | --- |
| Market            | Current    | Previous close  | % move |
| Singapore         | 3009.05    | 3008.22    | 0.03 |
| Bangkok           | 1558.84    | 1554.88    | 0.25 |
| Manila            | 7238.08    | 7246.08    | -0.11 |
| Jakarta           | 5265.747   | 5298.948   | -0.63 |
| Kuala Lumpur      | 1665.69    | 1666.51    | -0.05 |
| Ho Chi Minh       | 686.01     | 682.31     | 0.54 |
Change this year
| | | | |
| --- | --- | --- | --- |
| Market            | Current    | End 2015   | % move |
| Singapore         | 3009.05    | 2880.76    | 4.45 |
| Bangkok           | 1558.84    | 1542.94    | 1.03 |
| Manila            | 7238.08    | 6952.08    | 4.11 |
| Jakarta           | 5265.747   | 5296.711   | -0.58 |
| Kuala Lumpur      | 1665.69    | 1641.73    | 1.46 |
| Ho Chi Minh       | 686.01     | 672.01     | 2.08 |