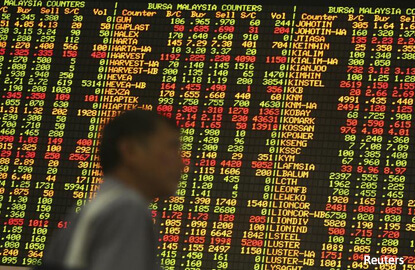 (Feb 24): Southeast Asian stock markets, except Indonesia, closed lower on Friday, with investor sentiment in export-reliant Asian economies jittery as US President Donald Trump again accused China of being a currency manipulator.
In an exclusive interview with Reuters, Trump called China the "grand champions" of currency manipulation, hours after his new Treasury Secretary promised a more methodical approach to analysing Beijing's foreign exchange practices.
Trump's comments weighed on the already weakened sentiment across the region, where investors have chafed at the new US administration's protectionist stance.
"Protectionist policies will definitely have a negative impact on the regional markets, especially on those export-dependent on the US," said Lexter Azurin, head of equities research at Manila-based Unicapital Securities Inc.
In Singapore, shares ended 0.7% lower after the city-state reported factory output fell 6% from December, more than double the 2.6% contraction predicted in a Reuters poll.
The index, however, posted a third straight weekly gain, adding 0.3%.
Oil and gas, and consumer stocks took a hit, with Genting Singapore dropping 2.4% and rig builder Sembcorp Industries off 2.7%.
Philippine shares slipped for a second day, ending 1% lower, as realtors SM Investments and Ayala Land shed 1.8% and 2.4%, respectively.
The index added 0.2% on the week.
Indonesia was the region's only gainer, finishing 0.2% higher. It rose 0.7% on the week.
Malaysia and Thailand dropped slightly, while Vietnam lost 0.3%.
SOUTHEAST ASIAN STOCK MARKETS
Change on day
| | | | |
| --- | --- | --- | --- |
| Market                   | Current   | Previous close  | % move |
| Singapore                | 3117.03   | 3137.57         | -0.65 |
| Bangkok                  | 1564.59   | 1567.32         | -0.17 |
| Manila                   | 7258.99   | 7335.56         | -1.04 |
| Jakarta                  | 5385.906  | 5372.748        | 0.24 |
| Kuala Lumpur             | 1698.35   | 1704.48         | -0.36 |
| Ho Chi Minh              | 714.47    | 716.87          | -0.33 |
Change on year
| | | | |
| --- | --- | --- | --- |
| Market                   | Current   | End 2016        | % move |
| Singapore                | 3117.03   | 2880.76         | 8.20 |
| Bangkok                  | 1564.59   | 1542.94         | 1.40 |
| Manila                   | 7258.99   | 6840.64         | 6.10 |
| Jakarta                  | 5385.906  | 5296.711        | 1.68 |
| Kuala Lumpur             | 1698.35   | 1641.73         | 3.45 |
| Ho Chi Minh              | 714.47    | 664.87          | 7.50 |