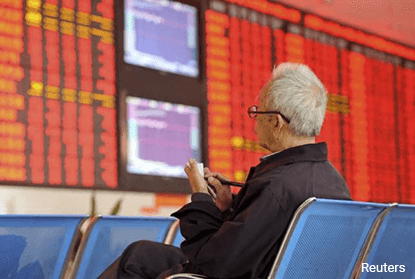 (Feb 24): Southeast Asian stock markets were weaker on Friday in the absence concrete economic drivers, with investors across broader Asia wary after US President Donald Trump again accused China of currency manipulation.
Trump called China the "grand champions" of currency manipulation on Thursday, only hours after his new Treasury secretary promised a more methodical approach to analysing Beijing's foreign exchange practices.
Trump's comments weighed on the already weakened sentiment in export-reliant Asian economies, where investors have been jittery over the new US administration's protectionist stance.
"Protectionist policies will definitely have a negative impact on the regional markets, especially on those export-dependent on the US," said Lexter Azurin, head of equities research at Manila-based Unicapital Secutrities Inc.
Singapore shares, which rose to a fresh 18-month high in the previous session, fell 0.7% as investors booked profit ahead of the release of last month's manufacturing data.
A Reuters poll of 12 analysts forecast January industrial production to have contracted 2.6% on a month-on-month seasonally adjusted basis, after rising 6.4% in December.
The oil and gas sector was the biggest loser, as oil prices weakened, with rig builder Sembcorp Industries dropping 2.7%.
Consumer stocks also saw substantial selling, with Thai Beverage PCL off 1.6% and gaming business Genting Singapore down 1.5%.
Philippine shares slipped for a second day, down 0.4% with broad losses in energy, industrials, and consumer stocks.
Philippine coal explorer Semirara Mining, down 2.7%, was the biggest percentage loser on the index, while real estate firm Ayala Land was the biggest net loser.
Malaysian and Thai shares were off 0.4% and 0.1%, respectively.
Indonesia was the region's only gainer, posting minor gain of 0.1%.
SOUTHEAST ASIAN STOCK MARKETS AT 0431 GMT
| | | | |
| --- | --- | --- | --- |
| Market                   | Current   | Previous close  | % move |
| Singapore                | 3117.85   | 3137.57         | -0.63 |
| Bangkok                  | 1564.58   | 1567.32         | -0.17 |
| Manila                   | 7304.88   | 7335.56         | -0.42 |
| Jakarta                  | 5378.096  | 5372.748        | 0.10 |
| Kuala Lumpur             | 1698.2    | 1704.48         | -0.37 |
| Ho Chi Minh              | 714.32    | 716.87          | -0.36 |
Change on year
| | | | |
| --- | --- | --- | --- |
| Market                   | Current   | End 2016        | % move |
| Singapore                | 3117.85   | 2880.76         | 8.23 |
| Bangkok                  | 1564.58   | 1542.94         | 1.40 |
| Manila                   | 7304.88   | 6840.64         | 6.80 |
| Jakarta                  | 5378.096  | 5296.711        | 1.54 |
| Kuala Lumpur             | 1698.2    | 1641.73         | 3.44 |
| Ho Chi Minh              | 714.32    | 664.87   | 7.40 |