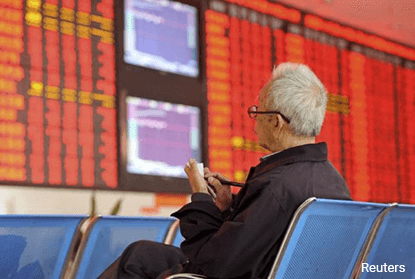 (March 3): Southeast Asian stock markets, except Vietnam, fell on Friday as Asian shares pulled back and the dollar held steady ahead of a speech by US Federal Reserve Chair Janet Yellen, with expectations growing the Fed would raise interest rates soon.
Several Fed officials have recently voiced their need for higher rates, which has seen the implied probability of a move this month shoot higher, and Yellen is expected to echo the same sentiment in her speech later in the day.
"I think most Asian markets are awaiting Yellen's speech... the probability of a rate hike is now somewhere around 80% versus last week's 40%, so a rate hike wouldn't be a surprise event now. I think that's pulling Asian equities down," said Victor Felix, equity analyst at AB Capital Securities in Manila.
Asian shares fell, with MSCI's broadest index of Asia-Pacific shares outside Japan down 0.9% in the biggest daily drop so far this year.
The dollar was broadly steady on Friday, but remained on track for solid weekly gains.
"Any rate hike there adds further strength to the US dollar and when that happens you're going to see a reversal of fund flow from emerging markets," said Nicholas Teo, trading strategist at KGI Securities (Singapore) Pte Ltd.
In Singapore, the FTSE Straits Times Index slipped about 1%, dragged down by financials, industrials and real estate stocks.
DBS Group lost 0.7%, while Jardine Matheson Holdings Ltd fell as much as 3%, its biggest intraday drop in three months.
"Singapore has been one of the stronger performing markets in Asia in the run up since this year. So, a lot of hot money that came in on the back of the initial weakness in the US dollar is now starting to reverse," Teo said.
The Philippine index was off 0.3%, with losses led by industrial and financial stocks.
SM Investments Corp dropped about 1%, while Security Bank Corp touched an eight-week low, placing itself among the worst performers.
The Philippine peso fell to a fresh 10-year low versus the dollar on Friday on increased expectations of a Fed rate hike this month.
Malaysia edged 0.4% lower, while the Thai index snapped three straight sessions of gains.
SOUTHEAST ASIAN STOCK MARKETS
Change at 0431 GMT
| | | | |
| --- | --- | --- | --- |
| Market           | Current       | Previous close  | % move |
| Singapore        | 3106.56       | 3136.48         | -0.95 |
| Bangkok          | 1567.63       | 1569.94         | -0.15 |
| Manila           | 7215.2        | 7234.94         | -0.27 |
| Jakarta          | 5396.382      | 5408.254        | -0.22 |
| Kuala Lumpur     | 1708.59       | 1715.67         | -0.41 |
| Ho Chi Minh      | 708.26        | 707.51          | 0.11 |
Change on year
| | | | |
| --- | --- | --- | --- |
| Market           | Current       | End 2016        | % move |
| Singapore        | 3106.56       | 2880.76         | 7.84 |
| Bangkok          | 1567.63       | 1542.94         | 1.60 |
| Manila           | 7215.2        | 6840.64         | 5.48 |
| Jakarta          | 5396.382      | 5296.711        | 1.88 |
| Kuala Lumpur     | 1708.59       | 1641.73         | 4.07 |
| Ho Chi Minh      | 708.26        | 664.87          | 6.53 |