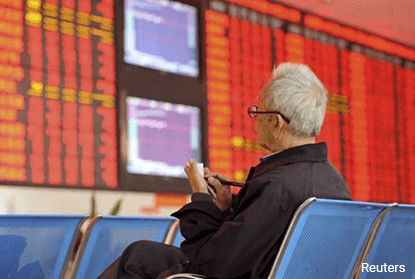 (Jan 17): Most Southeast Asian stock markets ended lower on Tuesday as investors waited nervously for British Prime Minister Theresa May to lay out plans to exit the European Union amid fears Britain will lose access to the single market.
According to advance extracts released by her office, May will tell an audience including foreign diplomats and Britain's own Brexit negotiating team: "We seek a new and equal partnership, between an independent, self-governing, global Britain and our friends and allies in the EU."
But the extracts did not set out explicit details of the future trading relationship May wants to have with the EU.
Sterling, which hit more than three-month lows on Monday, hovered around US$1.2164 as of 0956 GMT ahead of May's speech at 1145 GMT.
Investors are on risk-off mode ahead of May's speech and US President-elect Donald Trump's upcoming inauguration on Friday, said Victor Felix, an analyst with AB Capital Securities.
Investors are seeking clarity on Trump's policies after campaign pledges on tax cuts and government spending helped lift stocks and the US dollar and were deemed positive for economic growth.
In Southeast Asia, Philippines closed 1.6% lower dragged down by financials and consumer staples, its fifth straight session of losses and biggest losing streak since Nov 2016.
"Today, the foreign selling is 311 million pesos (US$6.25 million) and the total value turnover is 5.5 billion pesos, which is lower than the average," Felix said.     
Property developer SM Prime Holdings Inc ended 3.1% lower, while Conglomerate JG Summit Holdings Inc fell 3.88%.
Singapore dipped marginally, dragged down by industrials and consumer stocks. Comfortdelgro Corporation Ltd, the biggest loser on the index, fell 1.6%.
Indonesia closed lower for a seventh consecutive session, pulled down by consumer staples and healthcare stocks.
Bucking the trend, Vietnam gained 1%, led up by financials and consumer staples.
SOUTHEAST ASIAN STOCK MARKETS
Change on day
| | | | |
| --- | --- | --- | --- |
| Market             | Current    | Previous close   | % move |
| Singapore          | 3012.77    | 3013.12          | -0.01 |
| Bangkok            | 1566.84    | 1571.8           | -0.32 |
| Manila             | 7123.33    | 7238.45          | -1.59 |
| Jakarta            | 5266.938   | 5270.011         | -0.06 |
| Kuala Lumpur       | 1663.03    | 1658.84          | 0.25 |
| Ho Chi Minh        | 684.71     | 677.94           | 1.00 |
Change so far
| | | | |
| --- | --- | --- | --- |
| Market             | Current    | End 2016         | % move |
| Singapore          | 3012.77    | 2880.76          | 4.58 |
| Bangkok            | 1566.84    | 1542.94          | 1.54 |
| Manila             | 7123.33    | 6840.64          | 4.10 |
| Jakarta            | 5266.938   | 5296.711         | -0.56 |
| Kuala Lumpur       | 1663.03    | 1641.73          | 1.30 |
| Ho Chi Minh        | 684.71     | 664.87           | 3.00 |
(US$1 = 49.7350 Philippine pesos)