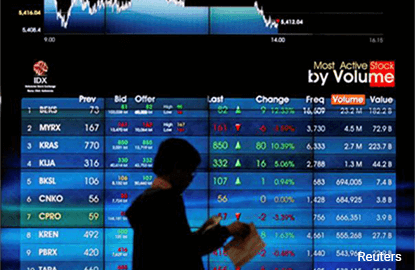 (Feb 3): Most Southeast Asian stock markets marked time on Friday ahead of the release of the US monthly jobs report that will set the tone for the Federal Reserve's rate hike outlook.
Nonfarm payrolls probably increased by 175,000 jobs in January, picking up from the 156,000 jobs added in December, according to a Reuters survey of economists. The unemployment rate is expected to be unchanged at 4.7% in January.
Investors are concerned whether the Fed would switch gears to a more hawkish stance if jobs data continues to surprise on the upside. A quicker pace of rate hikes on the back of strong economic indicators is likely to trigger fund outflows from emerging markets.
Some analysts are pencilling in a March rate hike if payrolls data surprises on the upside, while futures are predicting a move only by June.
Thai shares snapped five sessions of falls with energy stocks gaining on a rise in oil prices. They lost 0.5% on the week.
Oil rose on news that US President Donald Trump could impose new sanctions on multiple Iranian entities.
PTT Pcl, Thailand's largest energy firm, and PTT Global Chemical PCL were among the top contributors.
Vietnam shares closed lower for the first time in six sessions, dragged down by financials and utilities, but added 0.4% for the week in their sixth consecutive weekly gain.
Vietcombank, Vietnam's largest lender by market value, and Petrovietnam Gas were the top drags.
Philippine shares pared early losses to end flat with gains in utilities and telecoms offsetting losses in financial and real estate stocks. The index declined 1.5% this week, its biggest fall since the week ended Dec 23, 2016.
Energy Development Corp rose 2.1% to close at a three-month high, while Metro Pacific Investments Corp fell 2.7% to end at a one-month low.    
For the week, Singapore lost 0.8%, Malaysia shed 0.1%, and Indonesia gained 0.9%.
SOUTHEAST ASIAN STOCK MARKETS
Change on the day
| | | | |
| --- | --- | --- | --- |
| Market            | Current        | Prev close    | % move |
| Singapore         | 3041.94        | 3044.08       | -0.07 |
| Bangkok           | 1582.95        | 1572.67       | 0.65 |
| Manila            | 7226.7         | 7225.91       | 0.01 |
| Jakarta           | 5360.767       | 5353.713      | 0.13 |
| Kuala Lumpur      | 1685.01        | 1673.48       | 0.69 |
| Ho Chi Minh       | 700.35         | 703.18        | -0.40 |
Change this year
| | | | |
| --- | --- | --- | --- |
| Market            | Current        | End 2016      | % move |
| Singapore         | 3041.94        | 2880.76       | 5.60 |
| Bangkok           | 1582.95        | 1542.94       | 2.59 |
| Manila            | 7226.7         | 6840.64       | 5.64 |
| Jakarta           | 5360.767       | 5296.711      | 1.21 |
| Kuala Lumpur      | 1685.01        | 1641.73       | 2.64 |
| Ho Chi Minh       | 700.35         | 664.87        | 5.34 |