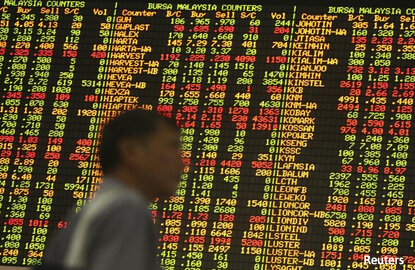 (March 6): Most Southeast Asian stock markets ended higher on Monday, in line with Asian peers, as investors weighed the near-certain prospect of an interest rate hike in the United States this month.
Philippine shares came off early falls to close almost 1% higher with broad-based gains.   
They fell over Fed rate hike worries in early trade, but "sentiment sort of reversed" in the second half, said Victor Felix, an equity analyst with AB Capital Securities.
Federal Reserve Chair Janet Yellen on Friday all but confirmed market expectations for an interest rate rise in March barring any sharp deterioration in economic conditions.
"Maybe investors are optimistic about the US growth outlook. The GDP data is slated to be released later this week, which might be a reason for the shift."
The United States is likely to grow in a range of 2.1% to 2.5% in each quarter this year, a Reuters poll showed, unchanged since the January poll.
"This morning was also a knee-jerk reaction to North Korea's ballistic missile test," said Felix.
North Korea fired four ballistic missiles on Monday, days after it promised retaliation over US-South Korea military drills it sees as a preparation for war.
Financials and consumer stocks were the biggest boost, with Ayala Land Inc and SM Investments Corp gaining 0.6% and 2.1%, respectively.
The Philippine Central Bank said there may be no need for it to adjust monetary policy at the moment as the market seems to have already priced in a possible Fed rate hike.
Malaysian shares climbed 1.1% to their highest close since April 15, 2016, led by financials, while Thai shares fell for a second consecutive session with energy stocks taking the biggest hit.
MSCI's broadest index of Asia-Pacific shares outside Japan was up 2.4 points as of 0953 GMT.
SOUTHEAST ASIAN STOCK MARKETS
Change on day
| | | | |
| --- | --- | --- | --- |
| Market            | Current       | Previous close  | % move |
| Singapore         | 3121.51       | 3122.34         | -0.03 |
| Bangkok           | 1553.61       | 1566.2          | -0.80 |
| Manila            | 7313.87       | 7247.12         | 0.92 |
| Jakarta           | 5409.817      | 5391.215        | 0.35 |
| Kuala Lumpur      | 1727.36       | 1708.38         | 1.11 |
| Ho Chi Minh       | 716.29        | 712.62          | 0.52 |
Change on year
| | | | |
| --- | --- | --- | --- |
| Market            | Current       | End 2016        | % move |
| Singapore         | 3121.51       | 2880.76         | 8.36 |
| Bangkok           | 1553.61       | 1542.94         | 0.69 |
| Manila            | 7313.87       | 6840.64         | 6.9 |
| Jakarta           | 5409.817      | 5296.711        | 2.14 |
| Kuala Lumpur      | 1727.36       | 1641.73         | 5.22 |
| Ho Chi Minh       | 716.29        | 664.87          | 7.7 |