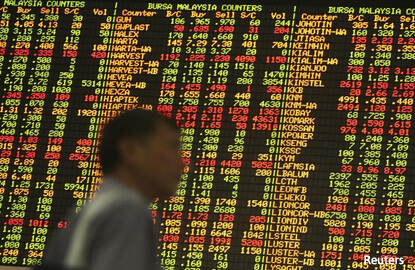 (Feb 7): Most Southeast Asian stock markets fell on Tuesday, in line with global equities, as lack of details on US President Donald Trump's economic policies and geopolitical concerns in Europe dented risk appetite.    
"The policies of the Trump administration and what he's planning to do with them are still unclear. The dollar index rallied last night, but I think we're also following US markets which went down last night," said Mikey Macanaig, an analyst with Sunsecurities Inc.
"Then again, the protectionist stance of Trump might also affect the market."
MSCI's broadest index of Asia-Pacific shares outside Japan was fractionally lower, while Japan's Nikkei closed down 0.35%.
European stocks declined after far-right National Front Leader Marine Le Pen launched her bid for French presidency with an anti-globalisation stand and intentions to take France out of the European Union.
Meanwhile, data showed China's foreign exchange reserves unexpectedly fell below the closely watched US$3 trillion level in January for the first time in nearly six years, creating fears of devaluation of yuan.
Philippine shares fell 0.4%, underperforming other regional markets, with industrials driving the losses. SM Investments Corp dropped 2.2%.
Consumer prices hit their highest in more than two years in January, due to higher water and energy costs among other commodities, the statistics agency said.
Thai shares snapped two sessions of gains ahead of the central bank's policy meeting on Wednesday, where it is likely to leave its policy rate unchanged near record lows.
Losses were led by energy and material stocks with petroleum products distributor RPCG Pcl losing over 3% in heavy trading.
Indorama Ventures Pcl fell over 3% in its worst session in three weeks.
Indonesian shares fell 0.3% with Telekomunikasi Indonesia (Persero) withering 1%.
Bucking the trend, Singapore shares rose 0.5%, helped by financials, with Oversea-Chinese Banking Corp Ltd touching a 1½-year intraday high.
Vietnam shares rose 0.3%, while Malaysia declined 0.1%.
SOUTHEAST ASIAN STOCK MARKETS
Change on day
| | | | |
| --- | --- | --- | --- |
| Market          | Current      | Previous close    | % move |
| Singapore       | 3071.64      | 3056.91     | 0.48 |
| Bangkok         | 1582.52      | 1589.13     | -0.42 |
| Manila          | 7262.64      | 7294.4      | -0.44 |
| Jakarta         | 5381.475     | 5395.995    | -0.27 |
| Kuala Lumpur    | 1688.84      | 1691.24     | -0.14 |
| Ho Chi Minh     | 701.91       | 700.04      | 0.27 |
Change this year
| | | | |
| --- | --- | --- | --- |
| Market          | Current      | End 2016    | % move |
| Singapore       | 3071.64      | 2880.76     | 6.63 |
| Bangkok         | 1582.52      | 1542.94     | 2.57 |
| Manila          | 7262.64      | 6840.64     | 6.17 |
| Jakarta         | 5381.475     | 5296.711    | 1.60 |
| Kuala Lumpur    | 1688.84      | 1641.73     | 2.87 |
| Ho Chi Minh     | 701.91       | 664.87      | 5.57 |