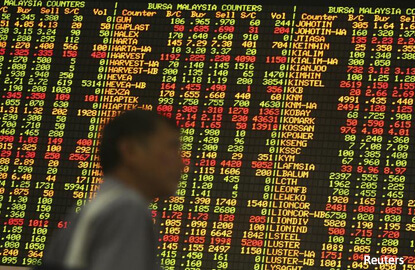 (March 2): Southeast Asian stock markets rose on Thursday, tracking Asian shares and Wall Street overnight, as investors took heart from US President Donald Trump's pledge to invest heavily in infrastructure, cut corporate taxes and ease regulations.
While Trump gave few new details on his tax or spending plans, investors were encouraged by what they saw as a measured tone in his first speech to Congress as he tries to push his growth agenda through a Congress reluctant to widen the government's budget deficit.
On Wall Street, the Dow blasted through the 21,000 mark for the first time, and the three main stock indexes surged more than 1.3% to close at record highs.
Shares were up in Asia on Thursday, with MSCI's broadest index of Asia-Pacific shares outside Japan rising 0.7%.
"He did not touch on details but at least he covered all the points that markets wanted to hear; you know, his aim to cut tax, to invest up to one trillion dollars in infrastructure," said Rakpong Chaisuparakul, strategist at KGI Securities (Thailand).
"I think this sent a positive message to the global equity markets that the US economy has an upside this year. That's the reason to drive all Asia markets this morning."
In Singapore, the FTSE Straits Times Index rose as much as 1.1% to hit an 18-month high, with financials and industrials leading the gains.
DBS Group was among the top gainers, climbing nearly 2%. United Overseas Bank Ltd rose 0.7%, while Keppel Corp extended gains to hit a fresh 16-month high.
The Philippines snapped four sessions of losses, edging 0.7% higher, helped by financial stocks.
Ayala Corp and Metropolitan Bank were the top two performers.
"The markets are expecting a rate hike this month in the United States, so we have been seeing a lot of outflow in recent days," said Anton Alfonso, research analyst at RCBC Securities in Manila.
"But because of the surge on Wall Street last night and (since) we (Philippine stocks) have been beaten down for the past four sessions, we are just seeing a rebound today."
Indonesia shares gained as much as 1.3%, outperforming other markets, with gains spread across all sectors.
Malaysia shares rose 0.9%, boosted by financial and telecom stocks, with Malayan Banking Bhd hitting its highest in nine months and telecoms company Axiata Group Bhd up 2.4%.
SOUTHEAST ASIAN STOCK MARKETS
Change at 0435 GMT
| | | | |
| --- | --- | --- | --- |
| Market           | Current    | Previous close  | % move |
| Singapore        | 3136.64    | 3122.77         | 0.44 |
| Bangkok          | 1569.87    | 1567.19         | 0.17 |
| Manila           | 7218.72    | 7170.7          | 0.67 |
| Jakarta          | 5427.61    | 5363.056        | 1.20 |
| Kuala Lumpur     | 1712.22    | 1697.69         | 0.86 |
| Ho Chi Minh      | 709.87     | 709.52          | 0.05 |
Change on year
| | | | |
| --- | --- | --- | --- |
| Market           | Current    | End 2016        | % move |
| Singapore        | 3136.64    | 2880.76         | 8.88 |
| Bangkok          | 1569.87    | 1542.94         | 1.75 |
| Manila           | 7218.72    | 6840.64         | 5.53 |
| Jakarta          | 5427.61    | 5296.711        | 2.47 |
| Kuala Lumpur     | 1712.22    | 1641.73         | 4.29 |
| Ho Chi Minh      | 709.87     | 664.87          | 6.77 |