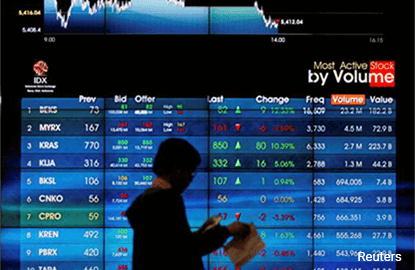 (Feb 22): Southeast Asian markets ended higher on Wednesday, tracking Asian shares that rose taking cues from upbeat factory activity in Europe and solid earnings overnight on Wall Street.
Strong results by Wal-Mart and Home Depot drove US indexes higher on Tuesday, while euro zone business growth hit its fastest since April 2011.
"Regional markets are just tracking the US markets higher. The US markets gained half a percent on Tuesday, so it's just tracking that," said an analyst from Singapore, who did not wish to be named.
Singapore rose nearly 1% to close at its highest in more than 18 months, led by the oil and gas and financial sectors.
United Overseas Bank and Keppel Corp both climbed more than 2%.    
Philippine shares closed up 0.3%, pushed higher by a rally in Ayala Land towards close of trade. Shares of Ayala Land rose 3.4% to their highest close in nearly 4 months.  
Investors are "positioning ahead of release of quarterly earnings, which are trickling in slowly," said Jose Vistan, an analyst at Manila-based AB Capital Securities. "If you are to position on the market being positive you obviously want to go with the industry leaders and Ayala Land is one of them."
Thai shares ended 0.5% higher, with TIPCO Asphalt up 7%. Natural gas company Scan Inter climbed 5.6% after it reported a 36.6% jump in full-year net profit.
Indonesian shares ended the day 0.3% higher, with consumer stocks Hanjaya Mandala Sampoerna adding 1.3% and Astra International rising 0.6%.
Vietnam and Malaysia eked out small gains.
Asian shares rose, with MSCI's broadest index of Asia-Pacific shares outside Japan up 0.6% as of 0950 GMT.
SOUTHEAST ASIAN STOCK MARKETS
Change on day
| | | | |
| --- | --- | --- | --- |
| Market            | Current       | Previous close     | % move |
| Singapore         | 3122.2        | 3094.19      | 0.91 |
| Bangkok           | 1572.04       | 1564.42      | 0.49 |
| Manila            | 7304.45       | 7282.68      | 0.30 |
| Jakarta           | 5358.683      | 5340.99      | 0.33 |
| Kuala Lumpur      | 1708.08       | 1706.55      | 0.09 |
| Ho Chi Minh       | 717.24        | 716.55       | 0.10 |
Change on year
| | | | |
| --- | --- | --- | --- |
| Market            | Current       | End 2016     | % move |
| Singapore         | 3122.2        | 2880.76      | 8.38 |
| Bangkok           | 1572.04       | 1542.94      | 1.89 |
| Manila            | 7304.45       | 6840.64      | 6.8 |
| Jakarta           | 5358.683      | 5296.711     | 1.17 |
| Kuala Lumpur      | 1708.08       | 1641.73      | 4.04 |
| Ho Chi Minh       | 717.24        | 644.87       | 11.2 |