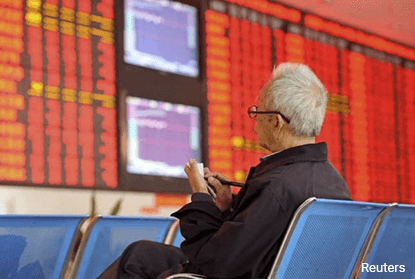 (Jan 31): Southeast Asian stock markets traded lower on Tuesday, in line with a global equity selloff, as US President Donald Trump's immigration and trade policies sapped investor confidence.
Global stocks posted their biggest loss in six weeks after Trump signed an executive order on Friday to bar Syrian refugees indefinitely and suspend travel to the United States from seven Muslim-majority countries, sparking widespread protests.
MSCI's broadest index of Asia-Pacific shares outside Japan fell 0.3%.  
"Trump's policy changes are causing some uncertainties, as to what direction it could be going forward. Most investors don't really know the impact of his policies yet", said Charles Ang, analyst with COL Financial.
Singapore fell 1% with financials accounting for more than half the loss on the index.
DBS Group shed 2% while Oversea-Chinese Banking Corp lost 1.3%.
Despite recording its biggest intraday percentage fall in 11 weeks on Tuesday, the index was up 6.4% in 2017 as of Friday's close.
The index was up 8.1% as of Friday's close since Donald Trump was elected US president in early November.
Philippines shares declined 0.9%, led by financial stocks, to post a third session of loss in six.
Thailand slid 0.4%, extending losses into a third session with energy stocks leading the fall. The index is on track for its biggest multi-week intraday percentage fall.
Oil company PTT Pcl shed 2.4%.
The country's manufacturing production index in December was up 0.54% from a year earlier, Thai Industry Ministry said on Tuesday. A Reuters poll forecast a rise of 2.50%.
Thailand shares are up 1.8% since Trump's election last year. The index has continued to gain this year up to Jan 30.
Malaysia dropped 0.6%. Industrials were the biggest drag on the index with Sime Darby Bhd falling 2.2%.
Vietnam was closed on a public holiday.
SOUTHEAST ASIAN STOCK MARKETS
Change at 0402 GMT
| | | | |
| --- | --- | --- | --- |
| Market             | Current       | Previous close  | % move |
| Singapore          | 3034.88       | 3064.85         | -0.98 |
| Bangkok            | 1584          | 1590.56         | -0.41 |
| Manila             | 7271.98       | 7336.71         | -0.88 |
| Jakarta            | 5302.043      | 5302.662     | 0 |
| Kuala Lumpur       | 1675.93       | 1686.36         | -0.62 |
Change this year
| | | | |
| --- | --- | --- | --- |
| Market             | Current       | End 2016        | % move |
| Singapore          | 3034.88       | 2880.76         | 5.35 |
| Bangkok            | 1584          | 1542.94         | 2.66 |
| Manila             | 7271.98       | 6840.64         | 6.3 |
| Jakarta            | 5302.043      | 5296.711        | 0.10 |
| Kuala Lumpur       | 1675.93       | 1641.73         | 2.08 |