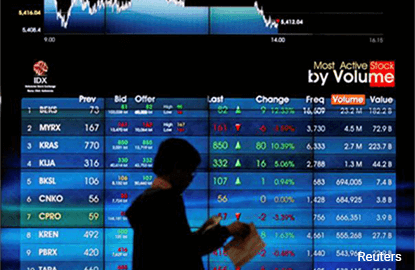 (March 2): Most Southeast Asian stock markets rose on Thursday, tracking Asian shares and Wall Street overnight, as investors took heart from US President Donald Trump's pledge to invest heavily in infrastructure, cut corporate taxes and ease regulations.
While Trump gave few new details on his tax or spending plans, investors were encouraged by what they saw as a measured tone in his first speech to Congress as he tries to push his growth agenda through a Congress reluctant to widen the government's budget deficit.
On Wall Street, the Dow blasted through the 21,000 mark for the first time, and the three main stock indexes surged more than 1.3% to close at record highs.
"He did not touch on details but at least he covered all the points that markets wanted to hear; you know, his aim to cut tax, to invest up to 1 trillion dollars in infrastructure," said Rakpong Chaisuparakul, strategist at KGI Securities
(Thailand).
"I think this sent a positive message to the global equity markets that the US economy has an upside this year."
Singapore shares rose 0.4%, helped by industrials and financials.
Jardine Matheson Holdings Ltd rose 2.3% to its highest close since March 9, 2015, while DBS Group added 1.1%.
Philippine shares closed 0.9% higher, with financials and industrials leading the gains.  
Ayala Corp and JG Summit were the top two performers.
Malaysian shares climbed 1.1% to their highest close since April 22, 2016, led by financials.
Malayan Banking Bhd rose 1.5%, while CIMB Group Holdings Bhd climbed 2.2% to its highest close since August 2015.
Malaysia's central bank held its key interest rate at 3.00% as expected, on optimism that the economy is recovering after a year of tepid growth.
"I think the decision to maintain the OPR is largely within expectation of ours as well as the general market. The strong gains that we are seeing in the local market today is probably due to yesterday's good performance in the American markets," said Lim Sei Wai, an analyst at AmResearch Sdn. Bhd.
Indonesia rose as much as 1.3% to a three-month high before closing 0.8% higher, led by consumer discretionary and energy stocks.
SOUTHEAST ASIAN STOCK MARKETS
Change on day
| | | | |
| --- | --- | --- | --- |
| Market           | Current       | Previous close  | % move |
| Singapore        | 3136.48       | 3122.77         | 0.44 |
| Bangkok          | 1569.94       | 1567.19         | 0.18 |
| Manila           | 7234.94       | 7170.7          | 0.90 |
| Jakarta          | 5408.254      | 5363.056        | 0.84 |
| Kuala Lumpur     | 1715.67       | 1697.69         | 1.06 |
| Ho Chi Minh      | 707.51        | 709.52          | -0.28 |
Change on year
| | | | |
| --- | --- | --- | --- |
| Market           | Current       | End 2016        | % move |
| Singapore        | 3136.48       | 2880.76         | 8.88 |
| Bangkok          | 1569.94       | 1542.94         | 1.75 |
| Manila           | 7234.94       | 6840.64         | 5.76 |
| Jakarta          | 5408.254      | 5296.711        | 2.11 |
| Kuala Lumpur     | 1715.67       | 1641.73         | 4.50 |
| Ho Chi Minh      | 707.51        | 664.87          | 6.41 |