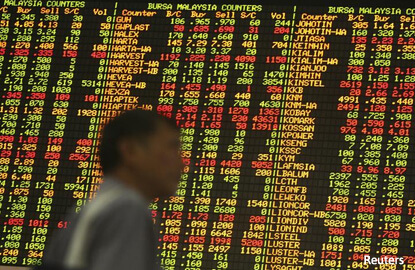 (Feb 13): Southeast Asian stock markets ended higher on Monday as investor concerns eased after US President Donald Trump set aside tough campaign rhetoric over security and jobs in a meeting with Japanese Prime Minister Shinzo Abe.
Trump's change of tack to agree to honour the "one China" policy, and his tax reform plans coupled with generally upbeat global economic data also boosted sentiment.
China posted much stronger-than-expected trade data for January as demand picked up at home and abroad.
"The easing of global uncertainties is a common denominator for regional markets," said Taye Shim, head of research at Mirae Asset Sekuritas.
Singapore shares rose 0.4% to close at an 18-month high, led by telecom and industrials.
Singapore Telecommunications Ltd climbed 1.3% to hit a more than four-month closing high, its third straight session of gains.
United Overseas Bank Ltd added 0.8% to touch a two-month closing high.
Philippine shares climbed 0.8% to close at a two-week high, led by industrials and financials.
Conglomerates JG Summit Holdings Inc and Ayala Corp each rose about 2%.
Indonesia gained 0.7% to close at a three-month high, with financials leading the gains.
Bank Central Asia Tbk PT ended 3.5% higher.
Malaysian shares gained up to 0.7% to close at a more than nine-month high, led by financial and utilities.
Power utility Tenaga Nasional Bhd added 1.2%, while CIMB Group Holdings Bhd climbed 1.8% higher to hit an 18-month closing high.
Thailand was closed for a holiday.
In Asia, MSCI's broadest index of Asia-Pacific shares outside Japan was up 0.5% at 0945 GMT, hovering at 18-month high levels.
SOUTHEAST ASIAN STOCK MARKETS
Change on the day
| | | | |
| --- | --- | --- | --- |
| Market             | Current      | Prev close  | % move |
| Singapore          | 3111.63      | 3100.39     | 0.36 |
| Manila             | 7294.67      | 7235.21     | 0.82 |
| Jakarta            | 5409.556     | 5371.669    | 0.71 |
| Kuala Lumpur       | 1710.24      | 1698.94     | 0.67 |
| Ho Chi Minh        | 705.9        | 703.78      | 0.30 |
Change this year
| | | | |
| --- | --- | --- | --- |
| Market             | Current      | End 2016    | % move |
| Singapore          | 3111.63      | 2880.76     | 8.01 |
| Manila             | 7294.67      | 6840.64     | 6.64 |
| Jakarta            | 5409.556     | 5296.711    | 2.13 |
| Kuala Lumpur       | 1710.24      | 1641.73     | 4.17 |
| Ho Chi Minh        | 705.9        | 664.87      | 6.17 |