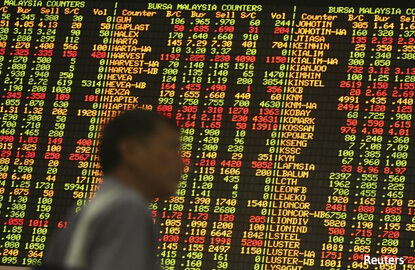 (Feb 20): Most Southeast Asian stock markets trod water on Monday, in line with broader Asia, while Thailand erased early gains to trade almost flat after the region's second-largest economy posted a weaker-than-expected quarterly growth.
Thailand's SET index opened 0.2% higher before erasing gains with losses centred in consumer and telecom stocks.
Retailer Big C Supercenter was down 1%, while consumer staples heavyweight CP All Pcl was off 0.4%.
The state planning agency said gross domestic product in the fourth quarter grew 0.4% from the previous three-month period as domestic demand slowed and tourist arrival slumped.
It left its 2017 growth forecast unchanged, at 3.0-4.0%, and said expanding exports plus higher crop production and state spending will aid growth this year. But analysts are doubtful the growth pace can be much higher than 2016's 3.2%.
Other Southeast Asian markets mirrored Asian shares, which moved sideways with US markets closed for Presidents Day.
MSCI's broadest index of Asia-Pacific shares outside Japan rose 0.74 points.
Philippine shares, which ended the previous session 0.5% lower, saw broad-based gains as investors hunted for bargains.
Consumer cyclicals were the biggest beneficiaries with SM Investments Corp and GT Capital Holdings rising 1% and 1.4%, respectively.
Indonesian shares were 0.3% higher, led largely by energy and consumer cyclical stocks.
Automotive business Astra International was 1% higher, while United Tractors and Adaro Energy added over 2% each.
Malaysian stocks posted minor gains, while Singapore was slightly down.
In Singapore, gains in telcos were outweighed by losses in industrials. Jardine Matheson Holdings, the city state's biggest industrial stock by market value, dropped 1.4%.
SOUTHEAST ASIAN STOCK MARKETS
Change at 0506 GMT
| | | | |
| --- | --- | --- | --- |
| Market                   | Current   | Previous close  | % move |
| Singapore                | 3104.52   | 3107.65         | -0.10 |
| Bangkok                  | 1576.85   | 1577.84         | -0.06 |
| Manila                   | 7270.4    | 7244.79         | 0.35 |
| Jakarta                  | 5366.824  | 5350.932        | 0.30 |
| Kuala Lumpur             | 1711.77   | 1707.68         | 0.24 |
| Ho Chi Minh              | 706.19    | 707.83          | -0.23 |
Change on year
| | | | |
| --- | --- | --- | --- |
| Market                   | Current   | End 2016        | % move |
| Singapore                | 3104.52   | 2880.76         | 7.77 |
| Bangkok                  | 1576.85   | 1542.94         | 2.20 |
| Manila                   | 7270.4    | 6840.64         | 6.28 |
| Jakarta                  | 5366.824  | 5296.711        | 1.32 |
| Kuala Lumpur             | 1711.77   | 1641.73         | 4.27 |
| Ho Chi Minh              | 706.19    | 664.87          | 6.20 |