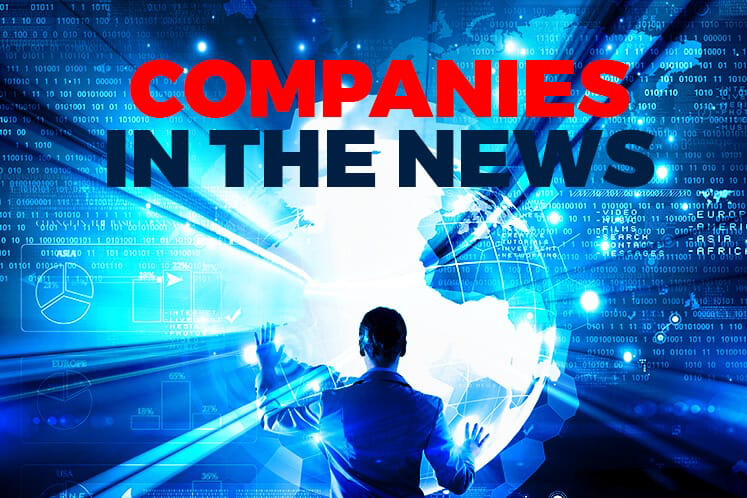 KUALA LUMPUR (Dec 7): Based on corporate announcements and news flows today, stocks on focus on Monday (Dec 10) may include: Scomi Group Bhd, YTL Corp Bhd, Astro Malaysia Holdings Bhd, D'Nonce Technology Bhd, T7 Global Bhd and Meda Inc Bhd.
Three of Scomi Group Bhd's subsidiaries, Scomi Engineering Bhd (SEB), Scomi Rail Bhd (SRB) and Scomi Transit Project Brazil (Sao Paolo) Snd Bhd (STPB), have applied for judicial management at the Shah Alam High Court on Dec 7 to protect them from legal proceedings "by third parties", without disclosing who these third parties are.
The judicial management, said Scomi, is a corporate rescue mechanism under the Companies Act 2016 which provides a rehabilitation framework to give companies that are in financial distress an opportunity to be rehabilitated by temporarily shielding them from legal proceedings by third parties.
YTL Corp Bhd is buying Spanish firm SOL HTL Project, which owns a freehold property in Madrid that will be refurbished and converted into a 200-room hotel that will operate under the Marriot International Inc's EDITION brand, for 220 million euros(equivalent to RM1.038 billion).
The price tag includes payment for loans that SOL HTL owes to the seller of the company, KKH Property Investors SLU. The acquisition is expected to be funded by borrowings and/or internal funds.
Astro Malaysia Holdings Bhd (Astro) is offering a voluntary exit option — in the form of a voluntary separation scheme (VSS) — to all its employees in a bid to strengthen its market position in a media and entertainment industry that it says is facing "an unprecedented rate of disruption".
The exercise will allow the group to further simplify the organisation, enhance operational efficiency and reduce annual operating expenses, said Astro.
It is understood that Astro is expected to save about 15% or around RM80 million in staff costs per year, from the VSS programme. Astro' staff costs stood at RM590 million for its financial year ended Jan 31, 2018 (FY18).
D'Nonce Technology Bhd is suing its former managing director and CEO, Law Kim Choon, accusing him of committing fraud and conspiracy, and of breaching fiduciary duties. Besides Law, also named as defendants in the suit are Lin Kath Sdn Bhd, Ferummas Precision Engineering (M) Sdn Bhd and Stride Electronics (Malaysia) Sdn Bhd.
The High Court has dismissed T7 Global Bhd's RM20 million suit against its former managing director Datuk Harzani Azmi and ex-executive director Tan Wee Koh for breaches of fiduciary duties, negligence and breach of trust.
The suit was in relation to the group's acquisition of the balance 49% stake in Gas Generators (M) Sdn Bhd in 2013 for RM34.3 million.
Meda Inc Bhd is proposing a private placement of up to 10% of its total issued shares, together with a proposed share issuance of a similar quantum, to fund its Malaysia Tourism City project in Kuala Linggi, Alor Gajah, Melaka.
The company expects to raise gross proceeds of up to RM37.4 million from the proposed exercises. Of that, up to RM30.85 million could be used for the development in Kuala Linggi, where it has 622 acres of land. The remainder is to be used for working capital and to defray expenses related to the proposed exercises.