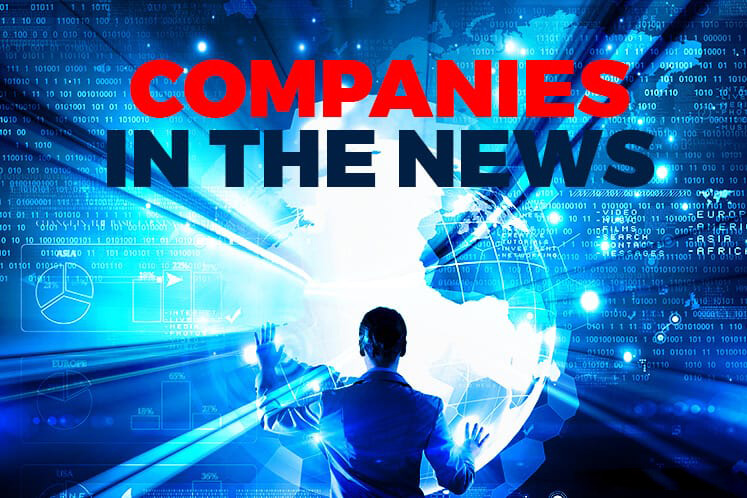 KUALA LUMPUR (July 31): Based on corporate announcements and news flow today, companies in focus on Wednesday (Aug 1) may include: Scomi Group Bhd, YTL Hospitality Real Estate Investment Trust (REIT), Serba Dinamik Holdings Bhd, Perusahaan Sadur Timah Malaysia Bhd, Globetronics Technology Bhd, Opcom Holdings Bhd, Halex Holdings Bhd and Datasonic Group Bhd.
The independent auditors of Scomi Group Bhd have highlighted a material uncertainty related to the going concern of the group, in an emphasis of a matter paragraph of the audit report for the group's financial year ended March 31, 2018 (FY18).
In the paragraph, the auditors at KPMG PLT noted Scomi Group, alongside its subsidiaries, have incurred net losses of about RM332.1 million for FY18, while its net current assets stood at RM80 million. Also highlighted were several project disputes and problems faced by the group — among which is its ongoing legal battle with Prasarana Malaysia Bhd over the RM494 million monorail expansion project.
YTL Hospitality Real Estate Investment Trust (REIT) reported a 21.5% increase in net property income(NPI) for the fourth quarter ended June 30, 2018 (4QFY18) to RM58.1 million, from RM47.8 million a year ago, mainly due to contribution from the Majestic Hotel in Kuala Lumpur, acquired last November.
Quarterly revenue grew 4.9% to RM116.6 million in 4QFY18, from RM111.13 million in 4QFY17.
A step-up of 5% in lease rental every five years from the commencement of lease agreement and additional rentals from the Ritz Carlton Suite and Hotel Wing following the completion of the refurbishment in May last year also contributed to the increase in revenue and NPI. The REIT declared a final distribution per unit (DPU) of 1.9651 sen to be paid on Aug 30, 2018.
Serba Dinamik Holdings Bhd has inked a Heads of Agremeent (HoA) with Hill International NV to jointly undertake the proposed development of the Pengerang International Commercial Centre (PICC) in Pengerang, Johor.
The PICC project was initiated by the group, following a Memorandum of Agreement dated Aug 18 last year.
The HoA which was inked today sets out the basic principles and understanding between the parties, with a view of entering into the Memorandum of Understanding (MoU) in relation to the execution of a definitive agreement pertaining to the PICC Project. The parties will enter into the MoU on or before Aug 31 this year.
The signing of the HoA will also allow Serba Dinamik to collaborate with Hill International's potential luxury tourism destination development project in Indonesia, where the latter company is currently working with a local Indonesian company.
Tinplate exporter Perusahaan Sadur Timah Malaysia Bhd's (Perstima) first quarter net profit jumped by 328% to RM12.14 million from RM2.84 million a year earlier, thanks to higher profit margins despite lower sales volume. Quarterly revenue rose slightly to RM238.83 million from RM237.5 million previously.
Perstima said revenue from its Vietnam operations increased 19.7% year on year thanks to higher sales volume with a higher selling price. In Malaysia, revenue decreased 6.8% due to lower sales volume despite a higher selling price.
Globetronics Technology Bhd's net profit for its second quarter ended June 30, 2018 (2QFY18) jumped 32% to RM9.34 million from RM7.06 million a year ago, thanks to higher volume loadings of products from certain customers, and a forex gain of RM710,000.
In comparison, it incurred a forex loss of RM1 million in the year-ago quarter. Its 2QFY18 revenue grew 14% year-on-year to RM71.53 million from RM62.92 million.
For the first half ended June 30 (1HFY18), Globetronics, which manufactures sensors and optical products for the semiconductor and electronics industries, reported a more than two-fold y-o-y increase in net profit to RM24.53 million from RM11.73 million, while revenue jumped 40% y-o-y to RM158.01 million from RM112.75 million.
The higher revenue and net profit achieved in 1HFY18 was mainly due to the pick up in volume loadings from the mass production of new products since the third quarter of last year, the group said.
Opcom Holdings Bhd has bagged an RM11.16 million contract from Telekom Malaysia Bhd for Unifi service installation and restoration.
The group's subsidiary, Opcom Cables Sdn Bhd, will undertake the work over an 18-month period ending Dec 31, 2019.
The award is expected to contribute positively towards Opcom group's earnings and net assets for the period of the award.
Mohd Faisal Kaim Abdullah has resigned as the chief executive officer of agrochemicals company Halex Holdings Bhd to pursue other interests.
The group said that Faisal's resignation was with effect from today.
He had been the CEO of Halex since May last year. Prior to that the 54-year-old served as the company's managing director and chief risk officer.
Datasonic Group Bhd said today that its unit has yet to receive a writ of summons from Fima Corp Bhd's subsidiary Percetakan Keselamatan Nasional Sdn Bhd (PKN) on a lawsuit claim for RM24.98 million in alleged unpaid dues.
Nevertheless, the group said that it reserves all rights to claim against PKN for damages arising from the latter's claim, and that the group is contemplating a counter-claim for that.
It said the legal action was in relation to a dispute between its unit Datasonic Technologies Sdn Bhd (DTSB) and PKN over the price of 1.5 million Malaysian passport booklets which were supplied by PKN to DTSB for the interim period of six months from Dec 1, 2016 to May 31, 2017, before the booklets were fully printed by DTSB.