This article first appeared in The Edge Financial Daily, on April 8, 2019.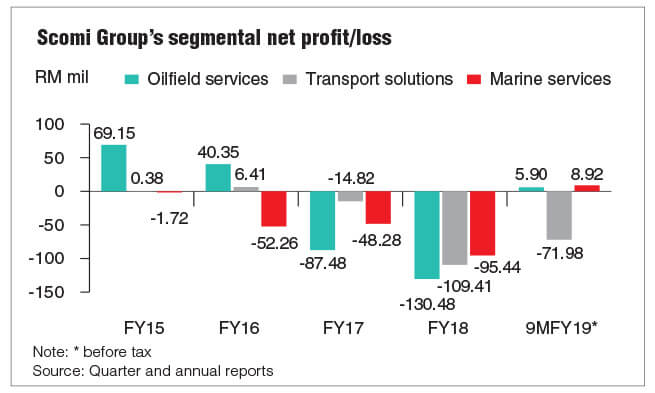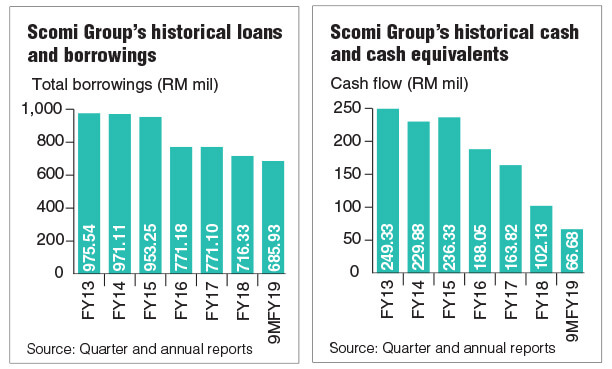 KUALA LUMPUR: The amicable dispute settlement between Scomi Group Bhd and Prasarana Malaysia Bhd last Thursday seems to have lit the light at the end of the tunnel for the monorail train manufacturer Scomi Group.
Scomi Group's wholly-owned subsidiary Scomi Transit Projects Sdn Bhd (STP) entered into a deal for Prasarana to acquire seven new sets of four-car trains for the Rapid KL Monorail route and STP to repair five sets of four-car trains that have stopped operating since January last year.
The settlement agreement also means the withdrawal of the previous legal suits.
The settlement agreement, which consists of two parts, namely refurbishment and new train orders, is expected to ease Scomi Group's financial stress.
While the RM122 million orders of seven new trains would take 30 months to materialise, the refurbishment for five sets of trains, however, would give Scomi Group an immediate work order of RM181 million over the next six months.
More importantly, the group will receive an instant RM181 million cash — a fresh lifeblood for the ailing debt-laden Scomi Group.
"Prasarana Malaysia shall make the payment totalling RM181 million to enable STP to undertake remedial works necessary to put five four-car monorail trains into revenue service and to make payments to STP's lenders, employees and creditors," said Scomi Group in an announcement to Bursa Malaysia after the signing of the settlement agreement last Thursday.
STP is a wholly-owned unit of Scomi Engineering Bhd, which is now a subsidiary of Scomi Group after a merger through a share-swap exercise that was completed in the first quarter of last year.
The refurbishment orders of RM181 million are deemed substantial considering the group's revenue from transport solution services for the nine months ended Dec 31, 2018 (9MFY19) was merely RM28.51 million.
It is also worth noting that Scomi Group was in a cash flow deficit of RM25.97 million as at Dec 31, 2018. Its deficit was even bigger at RM41.7 million a year ago.
The group's cash pile has been shrinking in the past three years. Its cash balance declined to RM66.68 million as at end-2019 compared with RM236.33 million as at March 31, 2015. This raises the question of how long Scomi Group could continue as a going concern. In other words, there is an urgent need to, at least, restore its financial credibility so that banks are more willing to restructure its existing debts.
Scomi Group's balance sheet as at Dec 31, 2018 shows that it had borrowings of RM685.92 million, of which RM566.09 million are current liabilities, which are likely due for settlement in less than six months. In the filing with Bursa dated Feb 13, Scomi Group said it had on Feb 8 received a notice of demand dated Jan 31 from Malayan Banking Bhd (Maybank) for the RM113.96 million "due to failure by SRB (Scomi Rail Bhd) to pay the default."
Scomi Group said Maybank reserves the right to take steps to dispose of the shares of a Scomi Group subsidiary that was secured against the bank facilities in the event the amount demanded is not paid.
Nonetheless, its total borrowings had declined by nearly one-third from RM975.54 million a year ago.
The settlement agreement is expected to be a boost to the group's job flow under its transport solutions division, said an executive who is familiar with Scomi Group.
"The management has been working to solve this (legal gridlock) with Prasarana for a long time. And now the group has managed to end the legal dispute and the legal disputes had affected our image.
"Hopefully, the settlement agreement could restore the group's reputation and build a better track record to secure more jobs in the future," said the executive who declined to be named.
Scomi Group's share price rallied after the news on the settlement agreement. The stock climbed to a 14-month high of 14.5 sen last Friday, before it closed at 11 sen valuing the company at a market capitalisation of RM105.63 million.
Despite the recent rebound in share price, some quarters view that Scomi Group remains undervalued judging by the assets it owns.
Scomi Energy Services ended at 12 sen last Friday valuing the group at RM281 million. Based on the closing price of 12 sen, Scomi Group's 66% stake is worth RM185.46 million, which is more than its market capitalisation of RM105.63 million.
Furthermore, with an improved cash flow and new job orders, Scomi Group is expected to be able to pare down its borrowings further.
The renewed optimism about Scomi Group's prospects is reflected in the climb of its share price. Will the rally be sustainable? Scomi Group's management and board will have to work hard to deliver good jobs and secure new contracts.