This article first appeared in The Edge Financial Daily, on January 15, 2019.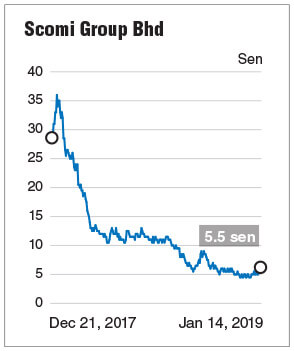 KUALA LUMPUR: Scomi Group Bhd and its 65.64%-owned subsidiary Scomi Energy Services Bhd's share prices came under renewed pressure as investigations into an unauthorised loan arrangement began.
At market close yesterday, Scomi Group fell one sen or 15.38% to 5.5 sen per share with 1.57 million shares done, with a market capitalisation of RM52.81 million. Over the past 12 months, it has fallen 82.8% from 32 sen on Jan 15, 2018.
Scomi Energy's share price fell 10% to an intraday low of 4.5 sen before recovering to close unchanged at five sen per share with 1.77 million shares traded. Its market capitalisation was RM117.08 million.
Scomi Energy has lost 64.3% of its value over the last 12 months, from 14 sen on Jan 14 last year.
Last Friday, Scomi Energy announced on Bursa Malaysia that its board of directors had commenced investigations into a RM64.33 million loan to Scomi Group as the advances were made without the board's approval.
Scomi Energy said the advances were also made without prior approval by the audit committee, still unable to provide a statement as to whether the provisions were fair and reasonable or to the company and its shareholders' detriment.
The advances had worsened Scomi Energy's financial woes as Scomi Group was unable to repay the outstanding amount.
Scomi Energy's board is also reviewing its management structure and severing ties by terminating shared services arrangements between them barring certain critical functions. The money was lent from June 2016 to June 2018.
Shah Hakim Shahzanim Zain was then chief executive officer of Scomi Group and Scomi Energy until August 2018 and March 2018 respectively. He was succeeded at Scomi Energy by Hilmy Zaini Zainal, who had held senior management positions within the group since 2001.
Meanwhile, Scomi Energy's chief financial officer (CFO) during most of the affected period was Chacko Kunjuvaru. He was appointed CFO of Scomi Group in March 2018.
Other notable directors on the boards of both companies while the transactions took place were non-independent non-executive director Lee Chun Fai, independent non-executive director Tan Sri Nik Mohamed Nik Yaacob, who resigned from both boards on July 19, 2018, and independent non-executive director Liew Willip. Sammy Tse Kwok Fai remains as executive director of both companies.