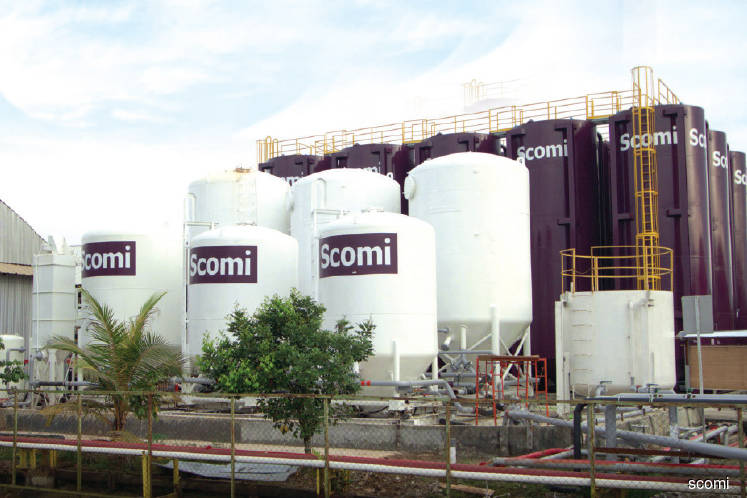 KUALA LUMPUR (Dec 13): Scomi Energy Services Bhd says today its indirect wholly-owned subsidiary KMCOB Capital Bhd has defaulted on redemption of bonds worth RM55 million.
The due date of redemption is today.
In a bourse filing today, the Practice Note 17 (PN17) company said despite not being able to meet the principal payment, KMCOB will pay the coupon on the Series E of the bond.
"To date, KMCOB has partially built up approximately RM22 million in the sinking fund and is short of about RM33 million to repay the Series E of KMCOB Bond," it added.
Scomi Energy said while it had on Dec 10 accepted a letter of offer from MIDF Amanah Investment Bank Bhd to provide a bridging financing to repay the RM55 million worth of bonds, it had insufficient time to fulfil the conditions precedent and security arrangement for the drawdown of the bridging financing before the payment date.
Nevertheless, it noted that there is no legal implication at this stage as no legal action has been taken by the trustee of the bondholders — TMF Trustee Malaysia Bhd — or Danajamin Nasional Bhd. The KMCOB bond is guaranteed by Danajamin under the financial guarantee insurance facility, with the guarantee against KMCOB, Scomi Energy and other Scomi Oilfield Ltd subsidiaries that are security parties and corporate guarantors under the KMCOB bond. The principal amount outstanding is RM105 million as of Nov 30.
Scomi Energy said KMCOB also submitted a formal request to TMF Trustee on Dec 11 to seek a remedial period from the bondholders for the settlement of the bonds.
On its part, Scomi Energy is expediting the fulfilment of the conditions precedent and security arrangement to facilitate the drawdown of the bridging financing and settlement of the Series E of KMCOB bond within the remedial period.
On Oct 31, Scomi Energy triggered the PN17 criteria after its shareholders' equity on a consolidated basis fell below 50% of its issued share capital as at June 30. It had subsequently submitted a PN17 waiver application to Bursa Malaysia on Nov 1.
Meanwhile, KPMG, Scomi Energy's external auditor, had expressed material uncertainty over the group's ability to continue as a going concern based on its financial statements for the financial year ended June 30, 2019.
In its independent auditors' report, KPMG drew attention to Scomi Energy's outstanding guaranteed serial bonds of RM105 million, of which RM55 million is due for repayment on Dec 14 and the remaining RM50 million is due for repayment on Dec 14, 2020.
Trading in Scomi Energy shares was suspended today pending the announcement and will resume on Monday. The stock last closed at seven sen, giving it a market capitalisation of RM163.92 million.
See also: Scomi Energy's auditor flags going concern uncertainty