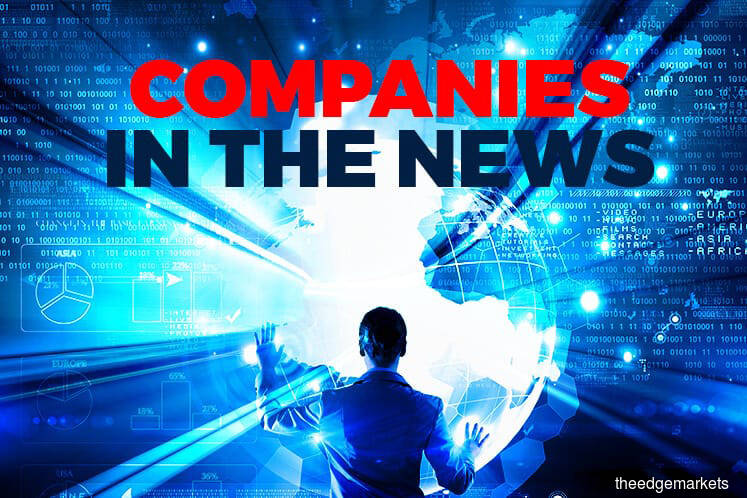 KUALA LUMPUR (Oct 11): Based on corporate announcements and news flow today, companies that will be in focus on Monday (Oct 14) may include: Scomi Energy Services Bhd, Kim Teck Cheong Consolidated Bhd, Anzo Holdings Bhd, Malaysian Genomics Resource Centre Bhd (GRC), Leweko Resources Bhd and Sime Darby Bhd.
Scomi Energy Services Bhd has proposed to reduce its issued share capital by RM560 million, followed by the consolidation of every five existing shares into one unit.
Scomi Energy said the proposals are intended to rationalise the financial position and share capital of the company by reducing its accumulated losses and the number of shares issued.
The proposed share consolidation will result in an adjustment to the reference price of the shares listed and quoted on the Main Market of Bursa Malaysia but will not have any impact on the total market value of the consolidated shares held by the company's shareholders.
Kim Teck Cheong Consolidated Bhd (KTC) said its unit has been appointed to distribute Abbot Laboratories (M) Sdn Bhd's nutrition products in Sarawak.
The appointment is for a period of 26 months from Nov 1, 2019 to Dec 31, 2021, and may be continued after the expiry, subject to a review by Abbot's management.
KTC said the appointment is expected to contribute positively to its earnings for the financial year ending June 30, 2020 (FY20).
Anzo Holdings Bhd has been declared an affected listed issuer, after reporting RM6.2 million in annual revenue for its financial year ended July 31, 2019 (FY19).
Anzo triggered Rule 8.01A (2b) of the listing requirements of Bursa Securities, as the company has an insignificant business or operations, where its FY19 revenue represented 5% or less than its share capital.
The loss-making contractor and timber service provider said it had today submitted an application to Bursa Securities, seeking for waiver in compliance with rule 8.03A (3) of the Main Market listing requirements.
Malaysian Genomics Resource Centre Bhd's (MGRC) shareholders may receive a special cash dividend of 22 sen per share, after the group has proposed to monetise its entire clinical pathology services business, held under Mpath Sdn Bhd, to Gribbles Pathology (Malaysia) Sdn Bhd for RM24 million.
According to the filing, MPath contributed RM27.46 million or 99% to MGRC's revenue for the financial year ended June 30, 2019 (FY19). It registered a net profit of RM229,000 that year.
Moving forward, MGRC said it intends to refocus on growing its existing genetic screening services (GSS) and genome sequencing & analysis (GSA) businesses.
Leweko Resources Bhd, which was taken over by Rengit Capital Sdn Bhd, has proposed today to diversify its core business to include construction and construction-related activities. Leweko is also seeking shareholders' approval for new recurrent-related party transactions to be entered into.
The management expects the construction business to contribute at least 25% to net profits of the now loss-making Leweko.
This is as the group is expecting to be awarded construction jobs of up to RM100 million by the construction arm owned by its major shareholders. It is also the management's plan to bid for construction contracts from third parties by leveraging on the business network and track record of the major shareholders.
Abu Dhabi's Court of Appeal has thrown out Emirates International Energy Services' (EMAS) bid to annul the payment of an arbitration tribunal award of RM46 million to Sime Darby Bhd's unit.
The arbitration award was issued on Dec 23 last year, followed by a supplementary award on March 4.
Sime Darby Energy Sdn Bhd (SDE) was informed of the decision by its external counsel on Wednesday, Sime Darby said in a filing with Bursa Malaysia today.