This article first appeared in The Edge Malaysia Weekly, on December 24, 2018 - December 30, 2018.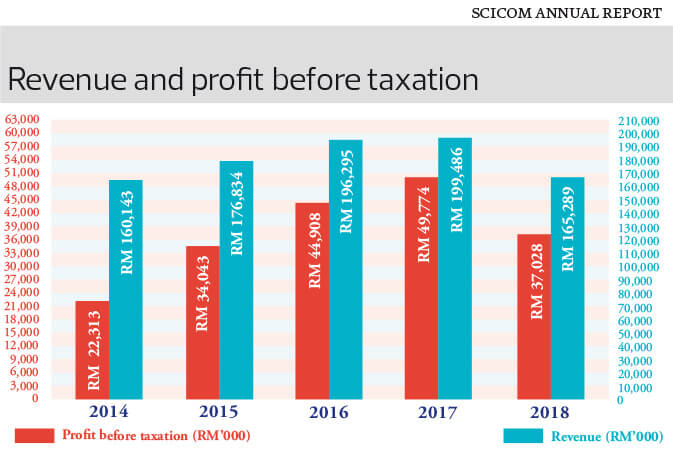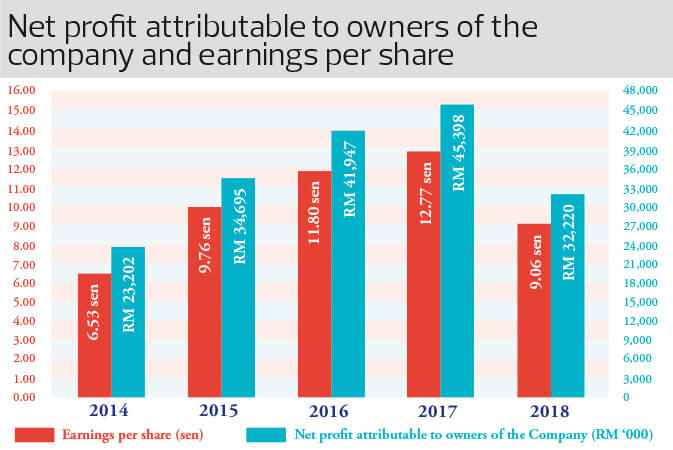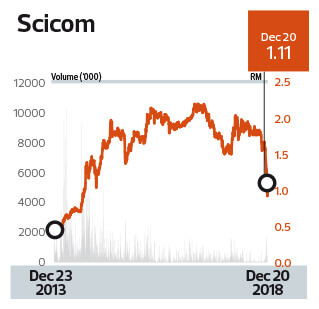 JUST when Scicom (MSC) Bhd founder and CEO Datuk Seri Leo Ariyanayakam is getting excited about the new government's assurance that concessions will be awarded through an open tender system, he has been caught off guard by the plunge in Scicom's share price.
In fact, the company has submitted its bid for the selected fuel-subsidy solution before the tender closed on Dec 10.
The Home Ministry's decision to scrap the RM3.5 billion National Immigration Control System project that was awarded to Prestariang Bhd and replace the existing 20-year-old system with a fully online Integrated Immigration System has created a strong ripple effect on other companies that also have e-government contracts under their belts, including Scicom.
It might not be an exaggeration to say that Scicom's share price has fallen like a rock. It plunged 28.5% in a short span of five trading days from RM1.30 on Dec 10 to a four-year low of 93 sen on Dec 14. The fall is even more drastic from this year's peak of RM2 level.
The little-traded stock caught the unwanted attention of the market. "We got caught up in the contagion about Prestariang Bhd. The fundamentals of our business are still good," Leo tells The Edge in an interview, and assures that it is business as usual at Scicom.
He sees no risk of the company losing its e-government contract, namely the Education Malaysia Global Services (EMGS) project. He stresses that Scicom has won it "fair and square" and has "zero performance issue".
Under the EMGS project, Leo says Scicom shares a portion of the visa application fees collected from foreign students with the government. He also highlights that the government did not spend a single sen on the project.
 
New government, new hope 
While some quarters perceive heightening political risk on government jobs after a number of public contracts were cancelled, Leo sees a level playing field for Scicom going forward.
"I'm very happy to go with the tender [system] because it is fair," he says, pointing out that Scicom is one local company that has the expertise and a good track record. He is confident of Scicom's capabilities and competence.
"I think the new Malaysia is great, as long as you have the capabilities," he says.
He reveals that the company is keen on becoming the solution provider for the government's selected fuel subsidy project. According to him, Scicom has been approached by other bidders to provide call centre services. Having a call centre is one of the requirements for a solution provider. But Scicom wants to do it on its own.
As a provider of integrated services and solution for six years now, Scicom does not find the complexity of the requirement a hurdle, which makes it stand out among other players. 
Furthermore, Leo says, Scicom is looking to venture into new markets internationally using the EMGS model. Apart from submitting a bid for the fuel subsidy project, Scicom has participated in more than 20 tenders.
 
Delay in Cambodia tourism project
It was over a year ago when Scicom clinched a contract to develop, implement, operate and maintain the integrated Cambodia Tourism Management System for the kingdom's tourism ministry.
However, the country's elections in late July have delayed the launch of the digital system. Consequently, revenue has yet to start flowing in from Cambodia.
"We have set up the system and are trying to get the timing right in terms of the launch," Leo says, adding that the company is looking to launch the system early next year.
Nevertheless, he highlights that the delay is not so much of a big concern as the company is not expecting the project to be a major earnings contributor.
He says the venture into Cambodia is to showcase Scicom's capability to expand its operations overseas.
For its financial year ending June 30, 2019 (FY2019), Scicom is expecting better growth from its e-solution business as well as its Business Process Outsourcing segment. However, Leo declines to share its earnings forecast.
For the first quarter ended Sept 30, 2018 (1QFY2019), net profit declined 52.74% y-o-y to RM5.19 million while revenue fell 15.66% y-o-y to RM38.66 million.
In FY2018, Scicom's net profit declined 29% y-o-y to RM32.22 million. Revenue also dropped 17.14% y-o-y to RM165.29 million.
Affin Hwang Investment Bank Bhd and MIDF Research have revised their recommendations on the stock to "hold" from "buy" with target prices of RM1.80 and RM1.77 respectively, after Scicom released its 1QFY2019 results.
MIDF analyst Ng Bei Shan believes Scicom's near-term outlook is unlikely to be exciting due to the delay in the implementation of the Cambodian project.
 
Save by subscribing to us for your print and/or digital copy.
P/S: The Edge is also available on Apple's AppStore and Androids' Google Play.