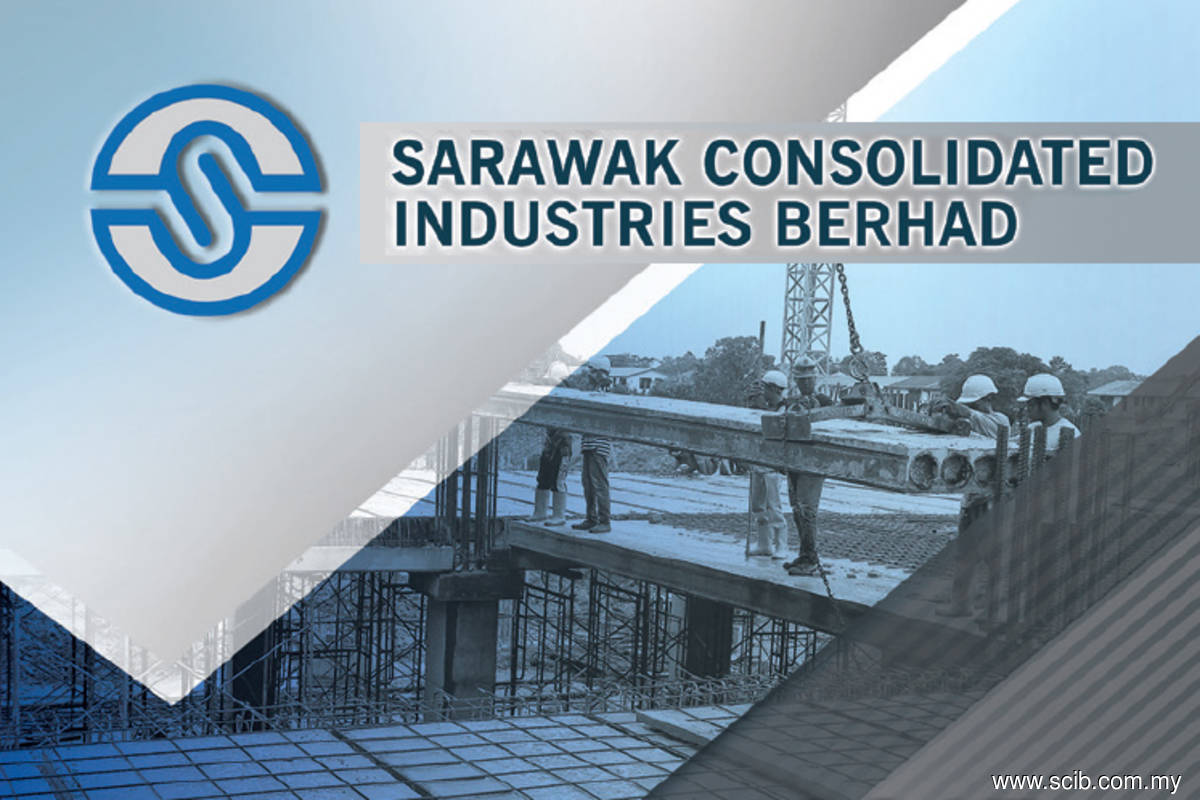 KUALA LUMPUR (Dec 31): Sarawak Consolidated Industries Bhd (SCIB) said its external auditor has expressed a qualified opinion on the group's audited financial statement for the year ended June 30, 2021 (FY21).
It also said its annual report for FY21 remains outstanding, as the group needs more time to update the statements in the report. 
The annual report is now expected to be issued on Jan 31, 2022, the Sarawak-based civil engineering outfit said in a bourse filing on Friday (Dec 31, 2021).
Trading in SCIB's shares has been suspended since Nov 9, after Bursa Malaysia Securities rejected an appeal by the group for an extension of time until Dec 31 for the group to release its FY21 annual report, which was due by Oct 31.
The group said its external auditor, Nexia SSY PLT, expressed a qualified opinion on the audited financial statement submitted on Thursday.
The qualified opinion was expressed in relation to the settlement agreements signed by the group on Nov 10 with several parties concerning six engineering, procurement, construction and commissioning (EPCC) projects carried out in Qatar and Oman.
Nexia SSY said after the settlement agreements were signed, the directors of SCIB resolved to reclassify the transactions relating to eight projects based overseas (inclusive of the six projects carried out in Qatar and Oman), by disclosing the net amount due to the group and to the company of US$15.67 million (RM64.22 million) and US$4.25 million (RM17.85 million) respectively as project management fee.
Consequently, the group and the company have made adjustments to the financial statements, the auditor said.
"We were unable to obtain sufficient appropriate audit evidence about the EPCC contracts and all the adjustments related thereto," said Nexia SSY.
"Accordingly, the impact of the net profit recognised in the Statement of Profit and Loss and Other Comprehensive Income as disclosed, amounting to RM3,549,473, has not been ascertained.
"Consequently, we were unable to determine whether the said adjustments were deemed necessary," the auditor said.
Deviation between audited and unaudited profit  
In a separate statement, SCIB said there is a deviation of more than 10% between the profit after tax and non-controlling interest of the group stated in the unaudited sixth quarterly results for FY21 and audited financial statements.
The deviation was caused, among others, by the recognition of a gain amounting to RM5.5 million in relation to the settlement agreement with Gaya Belian Sdn Bhd and others, which was reclassified from movement in reserves to other income. 
It was also due to the recognition of a total net provision of impairment loss amounting to RM52.5 million which included an amount due from overseas projects of RM50.9 million; an additional RM2.6 million impairment losses based on the payment profiles of sales over an 18-month period; and an RM1 million reversal of impairment due to recognition of advance payment made for the project being awarded. 
Another contributing factor, SCIB said, was the RM1.7 million consultancy fees expensed off due to unsuccessful projects. 
SCIB is the second group under Serba Dinamik's CEO Datuk Mohd Abdul Karim Abdullah's belt that has been suspended from trading by the stock exchange due to non-compliance.
The group had a change in external auditor after KPMG resigned on July 26, following its sister company Serba Dinamik's legal suit against KPMG over audit issues.
SCIB said that the impact of movement restrictions in Malaysia and overseas due to Covid-19 had also hampered its efforts to finalise and issue the annual report.
SCIB managing director and CEO Rosland Othman said the group remains committed to creating value and optimising performance in the year ahead. 
"We will continue our expansion into Peninsular Malaysia and East Malaysia. We have restrategised our geographical positioning by taking a closer look at potential emerging markets, especially in the home and neighbouring countries. 
As of Dec 31 2021, SCIB said its order book remains steady at RM1.2 billion, translating into a healthy earnings visibility up to 2026. 
"By focusing on leveraging our strength as the largest precast concrete and industrialized building system (IBS) manufacturer in East Malaysia, we can develop opportunities around Southeast Asia. 
"Furthermore, SCIB will also plan to expand our manufacturing business at Peninsular Malaysia, on top of adopting 3D printing technology into our construction projects, as we believe this will give us the necessary competitive edge to compete in the construction industry," Rosland added. 
Shares of SCIB were last traded at 20.5 sen, giving it a market capitalisation of RM119.3 million.