This article first appeared in The Edge Financial Daily, on March 30, 2020.
Lee says the company has received massive orders from hospitals, both locally and in Singapore, and even a number of enquiries from other parts of the world. (Photo by Haris Hassan)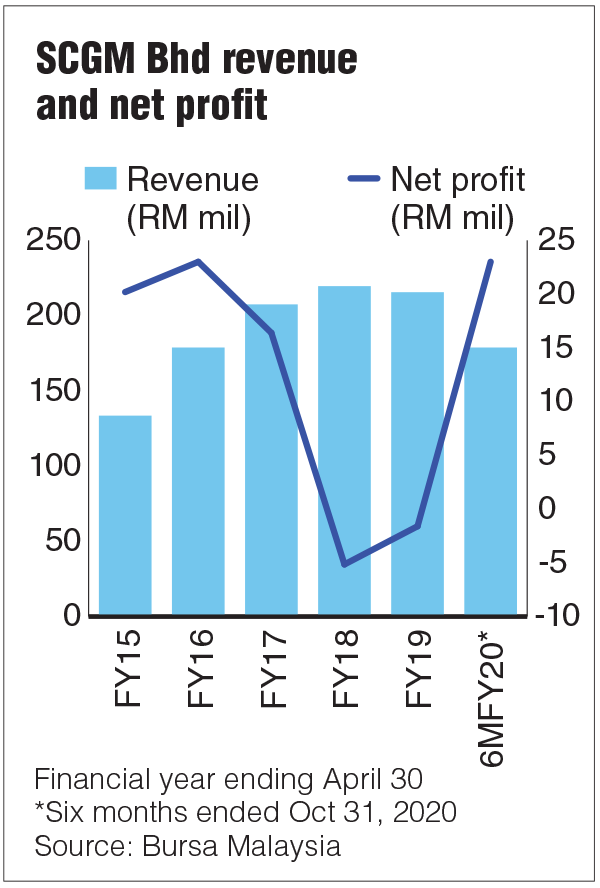 KUALA LUMPUR: The shortage of personal protective equipment (PPE) due to the unprecedented demand amid the Covid-19 pandemic has prompted some frontline staff in local hospitals to use do-it-yourself (DIY) protective gear made from everyday items such as plastic bags and cling wraps.
Some charitable organisations and individuals have even started making protective face shields using acrylic sheets and plastic sheets materials, as well as 3D printing, to donate to hospitals that are in need.
Riding on the sudden surge in demand, SCGM Bhd, which specialises in thermoform food packaging products, has also decided to foray into making protective face shields.
Its executive chairman Datuk Seri Lee Hock Seng told The Edge Financial Daily that the company had received massive orders from hospitals, both locally and in Singapore, and even a number of enquiries from other parts of the world.
However, he said that due to constraints arising from the movement control order (MCO), the company's factories could not operate at their optimal levels to meet the huge demand, with backlog orders slowly piling up, forcing the company to ignore overseas demand.
But last Tuesday, SCGM received approval from the ministry of international trade and industry (Miti) allowing the company to resume normal operations during the MCO. Lee hopes that with the ramp-up production, the company can catch up with the heightened demand.
Lee claimed that Miti had been slow in responding to its request.
"Since the MCO started on March 18, we have been making all the relevant applications, but there were no responses at all, not even a reply on whether we failed the process or not."
"We had lost invaluable amount of time, which equates to our productivity to supply these essential medical gears. Throughout this period, the whole supply chain was literally malfunctioning and some of the auxiliary items are running out."
Asked about the availability of inventory, Lee said it is not an issue as the company has ample stock of polyethylene terephthalate (PET), the raw material for making face shields. There is sufficient raw material in Malaysia as a few huge PET producers operate here.
However, Lee is more concerned about auxiliary items, such as sponge foams, rubber elastic bands and carton boxes, as these PET producers might not be able to get the authority's approval to operate at normal capacity.
Mass production of face shields
Moving forward, SCGM will focus on producing face shields with a quarter of its workforce involved in production at its newly-formed healthcare protection gear pipeline.
In addition, Lee said the company has ordered a face mask making machine, and is looking at moving into mass production in mid-April. The company was also able to obtain non-woven fabric raw material.
"We will be allocating our resources to the healthcare portfolio, as the margins are generally higher than the current ones."
On whether SCGM's existing business has been affected by the Covid-19 pandemic, Lee said that due to people's behavioural change during the MCO, takeaway demand has surged which has, in turn, benefitted the company's business.
"Despite the [partial] lockdown, supermarkets and essential food services are still operational, and in fact our products are mainly servicing these two segments. We are truly the lucky ones," Lee said.
In terms of overseas business, SCGM is still busy fulfilling its obligation with its Australian and Indonesian counterparts, which is why it cannot allocate more resources to the higher-margin healthcare pipeline.
On prospects, Lee is optimistic about the company's business momentum and expects commendable financial results for the coming quarters.
Favourable feedstock price
Public Investment Bank Bhd, in a research note in December 2019, noted that resin prices have fallen to US$850 per tonne, the lowest level in 10 years, due to supply glut by global resin producers.
The research house said the steep decline in resin cost, which makes up 60% of SCGM's production cost, will result in significant cost reduction for the company. In addition, SCGM's management does not practise a hedging policy and thus it allows the company to benefit immediately from low resin prices.
As at last Friday, the spot price for Southeast Asia polyethylene was US$900 (RM3,894) per tonne, still considerably lower than its recent 10-year peak of US$1,680 in 2013.
SCGM's recent financial results showed that the company posted net losses for financial years 2018 and 2019 despite reporting slight improvement in revenue.
In February 2017, the company began constructing its new factory at a cost of RM54 million. The relocation was fully commissioned in mid-2019. 
Throughout the period, the company sustained high depreciation and relocation costs, while fine-tuning its manufacturing capacity back to optimal levels.
Lee said the relocation process was completed eight months ago, and the machines are now operating at optimal levels.
SCGM returned to profit for the six months ended Oct 30, 2019.
Its shares rallied from a low of 76 sen in August 2019 to hit a high of RM1.68 in January 2020.
However, the stock fell in line with the broad market movement, falling to an initial low of 76 sen on March 19, before rebounding to RM1.07 last Friday, valuing the company at RM207 million.