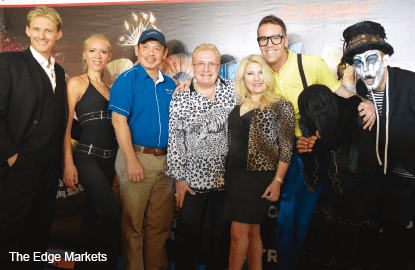 This article first appeared in The Edge Financial Daily, on 30 November, 2015.
CATCH a myriad of special tricks from around the world with Sunway Lagoon's upcoming entertainment show TRIKSTARS: Masters of Trickery. Hailing from the United States, Australia, and Europe, the magic and live entertainment show features six acts brought together by the award-winning theatrical impresarios, Dion and Randall International.
At the show's launch last week, both producers promised a visually driven fun two-hour long performance, with acts that Malaysians have not seen before. "This show is a very 'eye candy' production. It's got amazing global magicians, with a cast of forty two [performers]. Some are award-winning, it is world class," says creator Adam Dion Bahoudian.
One of the most original acts are Nightmares by Magus Utopia, founded by Netherlands artists Marcel Kalisvaart and Aquila Junior. The world champions of magic will bring a unique show combining magic, storytelling and visual effects. Also at the launch were Sebastian & Kristina, a dance duo known for their quick-change act.
Other performers include magician Phelston Jones, who specialises in hand manipulation and formed his act on the streets of New York. Also from the Big Apple are the King Charles Troupe, a high-energy basketball act with some dazzling skills, many of which are performed on unicycles.  
The coolest magician on planet earth, Rudy Coby, will also bring his comedy magic act all the way from Las Vegas, while the acclaimed human "live-cartoon" Sylvester the Jester also makes his first visit here. Rounding up the acts is the Australian recording artist, J'aime Holland.
"The acts were selected to appeal to the local market, are family friendly and most of them with a comedic element as well," says co-creator Nina Randall Bahoudian.
In conjunction with TRIKSTARS, Sunway Lagoon is giving the public an opportunity to nominate a charity group or loved ones for a special show, via its With Love, Sunway Lagoon Facebook campaign. The contest runs daily from today until Dec 14.
---
TRIKSTARS: Masters of Trickery runs from Dec 5 to 20 at the Amphitheatre, Sunway Lagoon. Tickets range from RM70 (children) to RM180 (adults), visit www.sunwaylagoon.com to book.