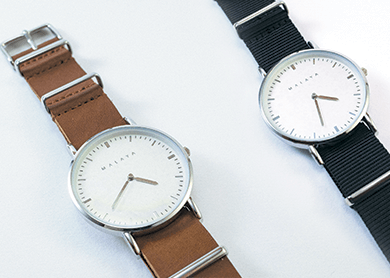 MALAYA is a London-based design firm that recently unveiled a much talked-about watch series in Malaysia. The [41920] watch is the first of Malaya's series of projects, which are dedicated to product innovation. Malaya was established in August 2014 and specialises in producing everyday essentials influenced by practicality and a minimalist aesthetic.  
Malaya initially started as a university project for the brand's head designer who was assigned to start a brand with the concept of being free. The word Malaya is derived from the Tagalog word meaning 'freedom' and with all founding partners being Malaysian it seemed only natural to use it as the brand name.
Launched last month, the [41920] watch by Malaya is a modern timepiece with a classic touch. Operating with a Japanese quartz movement, the watch frame has a coated casing while the watch face is protected with sapphire glass crystal. With its sleek minimal design, the watch dial measures 40mm in diameter size. The [419020] watch is a suitable watch for all occasions and is a great choice for anyone with a keen eye for versatility. 
"Here at Malaya, we envision our brand to empower users through the freedom of choice. Drawing concepts from military functionality and industrial minimalism, this line of watches was engineered to cater to the individuality of wearers today," says Shahida Hasan, managing director and co-founder of Malaya. 
An example of Malaya's concept of 'freedom of choice' is that it allows users to customise the strap of the [41920] watch to suit their own preference. The watch is available in two variations — a rose gold coated frame paired with a royal blue leather strap and a silver coated frame with a tanned brown strap, and both straps are detachable. A supplementary webbed-nylon strap is also available in green, beige, black and grey. A bright red shade called merah is reserved exclusively for sale in Malaysia, and is a reflection of our melting pot of local cultures. 
Over the next few months, Malaya will be continuing to collaborate with young designers from Southeast Asia with the intention of setting up a creative department in Kuala Lumpur. The brand will be working on more projects towards the end of 2015. 
With the launch of the [41920] watches, Malaya have teamed up with online lifestyle platform Third Culture for the release. The [41920] watches are available online through www.shopthirdculture.com and begins at RM328.
This article first appeared in The Edge Financial Daily, on June 10, 2015.