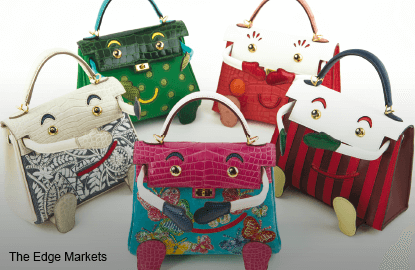 This article first appeared in The Edge Financial Daily, on November 3, 2015.
LEATHER is deeply entrenched in the culture of Hermès, carrying within its richness, suppleness and perfume decades of craftsmanship and refinement. Founded in 1837 by Thierry Hermès in Paris, the brand has developed a legacy as a master maker of harnesses and saddles. Six generations of artisans have learned and in turn passed down the art and values that have nurtured the house for over 170 years.
"Our craftsmen and designers are constantly pushing back the frontier," says creative director Pierre-Alexis Dumas. "The heirs of tried and trusted techniques, they strive constantly to invent new uses for leather, new feats and new forms of elegance to match the movements of modern men and women. Bespoke upholstery for a helicopter, car or bicycle, a modular saddle combining leather and carbon fibre, a bag that folds and moulds itself to our moods or dreams of tomorrow — these are some of the challenges to which they have brilliantly risen."
And to showcase that blend of heritage and progress, Hermès has unveiled its Leather Forever exhibition in Singapore. It celebrates the maison's relationship with the fine material, taking visitors on a poetic journey as it presents items from the past as well as its latest creations. Also present will be craftsmen from the Hermès workshops in Paris to demonstrate the art of leather crafting by creating some of the brand's iconic bags on site.
As a lead-up to the exhibition, guests are invited to first embark on an evocative voyage in the Little Room of Wanders at the Asian Civilisations Museum. A fine selection of items from the Emile Hermès museum at Faubourg Saint-Honoré in Paris includes paintings, equestrian objects, ingenious mechanisms, rare books and unusual knick-knacks. These beautiful curiosities have become a permanent source of inspiration for the house's designers, bringing a little piece of the heart of Hermès to Singapore in honour of the 50th anniversary of Singapore's independence. Hermès has also created five Kellydoll bags to mark each decade of Singapore's sovereignty.
"This is a very exciting moment for Hermès in Singapore," continues Dumas. "With this ambitious project, visitors will simultaneously have the chance to discover the rich and poetic expression of Hermès' core métier with Leather Forever and for the first time, in Little Room of Wanders, to peruse some of the treasures assembled by my great grandfather Émile Hermès in his long life of collecting, shown alongside a number of original sketches by my uncle Philippe Dumas. These two unique museums will offer the perfect Hermès flânerie for the eye and the mind. I am happy and proud, in the name of Hermès, to share it with Singapore."  
---
Leather Forever will run at the ArtScience Museum at Marina Bay Sands in Singapore while the Little Room of Wanders will be exhibited at ACM Green, Asian Civilisations Museum. Both exhibitions will run until Dec 13, 2015, and are open daily from 10am to 7pm, with opening hours extended to 9pm on Fridays. Admission is free. For more information, visit www.marinabaysands.com/museum and acm.org.sg.