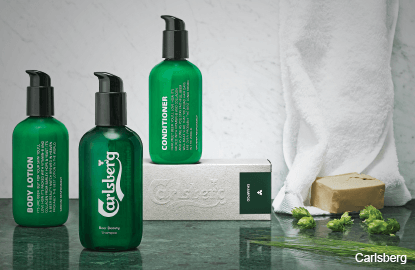 This article first appeared in The Edge Financial Daily, on December 1, 2015.
FROM happy hours to the bathroom, beer lovers will undoubtedly be able to raise a toast to Carlsberg's novelty gift for this festive season. The Danish brewery recently introduced the "first-of-its-kind" limited-edition Carlsberg Men's grooming line, made from the drink that has made them a household name — beer. 
This new personal care collection includes shampoo, conditioner, and body lotion in 250ml-sized bottles with the brand's signature green colour design. Each of the specially researched products is made with half a litre of Carlsberg brew. 
"The beer is freeze-dried into powder, and then mixed with organic ingredients," explains Carlsberg brewmaster Erik Lund. Expounding the natural benefits in beer ingredients itself, researchers at the brewery says the vitamin B and Silicium from barley, hops and yeast leaves will add a healthy glow to skin, as well as leave hair looking shiny and strong. 
In a survey quoted by Zoran Gojkovic, director of research at Carlsberg Laboratories, he highlights the prevalence of grooming among men today. "People sometimes say that men don't care too much about grooming, but men do care about looking good. They often seem to lack alternatives to the more female-friendly beauty options available." Nothing is quite as manly as a cold beer, really.
Perfume and paraben-free, the organic range – created in collaboration with Danish cosmetics producer Urtegaarden — is also touted to be vegan-friendly. It's masculine imagine aside, Carlsberg is also confident that its non-overpowering and familiar scent of musky beer and tinge of lemony zest would be a refreshing, crisp change for grooming products. 
Part of the brand's ongoing marketing campaign, "If Carlsberg Did…", the beery grooming products are the latest in a series of innovative ideas that has included shavers and haircuts. 
Only 200 of the Carlsberg Beer Beauty exclusive sets are available in Malaysia. To purchase, visit www.probablythebest.com.my. Just a word of caution from the brewery: try not to drink it.