This article first appeared in The Edge Financial Daily, on February 3, 2020.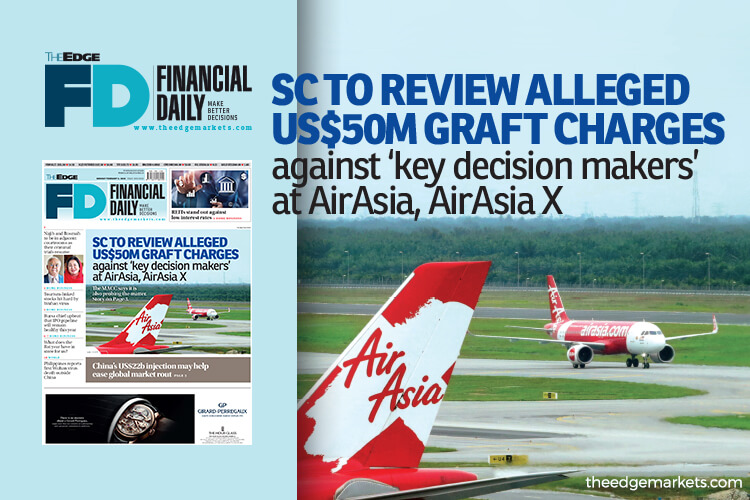 KUALA LUMPUR: The Securities Commission Malaysia (SC) will review the bribery and corruption allegations against executives at low-cost carriers AirAsia Group Bhd and AirAsia X Bhd involving US$50 million (RM205 million) from a plane-maker.
According to court documents sighted by The Edge Financial Daily, European aerospace multinational Airbus had allegedly bribed two "key decision makers" at the budget airlines — who are only identified as AirAsia Executive 1 and AirAsia Executive 2 — by providing sponsorship worth US$50 million for sports team owned by these individuals in exchange for the purchase of its aircraft.
In a statement yesterday, SC chairman Datuk Syed Zaid Albar said: "The statement of facts in the case of Regina vs Airbus SE discloses several allegations against AirAsia Group Bhd and AirAsia X Bhd."
"As both are listed on Bursa Malaysia, the SC will examine the allegations and review all available evidence to determine if there is any breach of securities laws," he added.
Under Section 317A of the Capital Markets and Services Act 2007 (CMSA), a director of a public listed company (plc) who does anything with the intention of causing wrongful loss to the plc or its related corporation, commits an offence which is punishable with imprisonment and fine, according to the statement.
Meanwhile, the Malaysian Anti-Corruption Commission (MACC) Chief Commissioner Latheefa Koya said the commission is already investigating the matter and is in touch with authorities in the UK.
She noted that the MACC is empowered and has the jurisdiction to investigate any act of corruption committed by any Malaysian citizen or permanent resident in any place outside of Malaysia.
AirAsia denies graft claims
In response, AirAsia group has denied the bribery and corruption allegations against both airlines.
The group said it was neither involved in any way whatsoever with the UK Serious Fraud Office (SFO) investigation of Airbus nor given any opportunity to provide any information or clarification to the SFO.
"AirAsia vigorously rejects and denies any and all allegations of wrongdoing," the group was quoted by Bernama as saying yesterday.
It highlighted that the entering into each aircraft purchase agreement was never made by any single individual decision, but instead arrived at through careful evaluation, deliberation and the collective decision of the board members after taking into account technical specifications, aircraft flight performance and operating economics.
'Plane orders corresponded with sponsorship deals'
Between October 2005 and November 2014, both low-cost carriers had purchased 406 aeroplanes from Airbus, including 180 aircraft bought in exchange for sponsorship from EADS France SAS, then parent of the aerospace firm.
"There was no legal relationship between [AirAsia, AirAsia X] and the sports team, albeit the association between them was utilised by both parties to generate publicity. The common denominators were AirAsia Executive 1 and AirAsia Executive 2," it said.
"AirAsia Executive 1 and AirAsia Executive 2 were on the board of directors of [AirAsia X]. In addition they were substantial shareholders of [AirAsia] and [AirAsia X]. They also owned a group of companies, including a subsidiary company that managed the sports team."
According to Reuters, the sports team in question is the Caterham F1 racing team which went defunct in 2014.
The team was purchased by AirAsia's co-founders Tan Sri Tony Fernandes and Datuk Kamarudin Meranun in 2011. Fernandes is currently chief executive officer of AirAsia while Kamarudin serves as group chairman.
According to the court documents, sponsorship payments from Airbus made on Oct 25, 2013 and after that were intended to influence both executives to "act improperly".
An email between unnamed Airbus employees in the court documents showed that the purchase of their planes hinged on the sponsorship payment.
"We have had some good meeting with [AirAsia Executive 1] this weekend in Singapore. AirAsia X is willing to take 25 A330-300s starting in 2015 … But as you can imagine. [AirAsia Executive 1] is insisting on the early payment of his sponsorship. We owe [US$10 million] in both [January] 2014 and 2015. He wants it paid now … The incremental A330s will generate a follow-on sponsorship so we need SMO [Airbus strategy and marketing operation] involvement …" said the email.
It was eventually decided that AirAsia X would place an order for 25 A330-300 planes with deliveries starting early 2015.
"As part of the deal, EADS will advance the [US$10 million] of sponsorship due to be paid in January 2014 and the [US$10 million] due to be paid in January 2015, both to be paid on A330 PA signature and PDP payment. These two payments were due as part of the A320 deal," said an Airbus employee in an email.
However, a subsequent email about the deal between Airbus employees stated:
"We need to get this done. If not we don't have a 25 A330 deal. We won't get any letter from AirAsia X."
Meanwhile, AirAsia had signed the purchase agreement for the 25 planes but would not go ahead with the deal until an additional US$30 million sponsorship was confirmed.
"[AirAsia Executive 1] has agreed we can announce [the 25 planes deal] this month if it is important for Airbus. However, he wants his contract for the [US$30 million] in sponsorship before he agrees."
Airbus then paid the amount in two separate transactions — via a US$15 million transfer into the sports team's account in December 2013 and a payment of another US$15 million in January 2015 to a third patty bank that had bought the team's debt.
In December 2013, AirAsia announced the purchase of the 25 planes but later revised it to 7 planes.
A further US$55 million was offered by Airbus, but the payment did not materialise following the suspension of payments to business partners in October 2014.
AirAsia and AirAsia X are among several airlines caught up in international investigations into Airbus' "endemic" scale of corruption across its international businesses, which involved a network of middlemen bribing officials in 20 countries to land aircraft contracts.
The investigations have resulted in a record €3.6 billion settlement with anti-fraud agencies in the UK, France and the US to stop further investigations into the company and escape a criminal conviction, which would have prevented it from doing business in several countries.