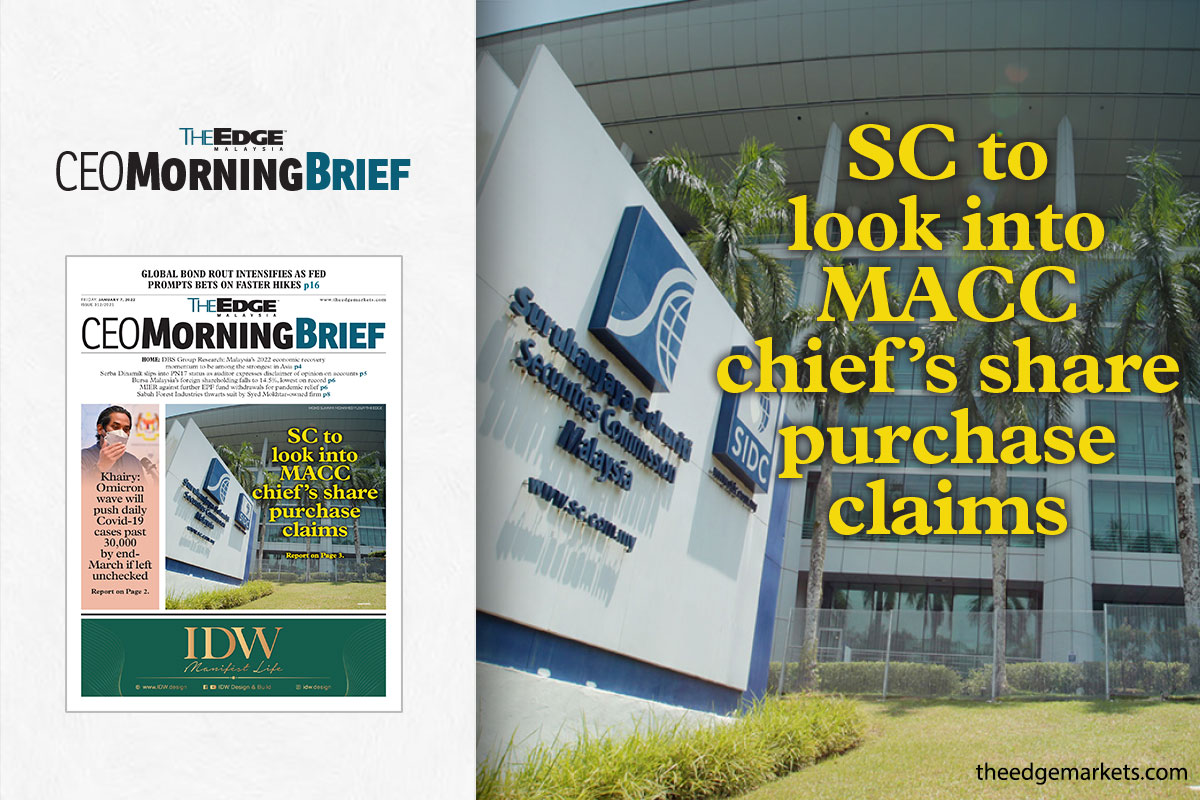 KUALA LUMPUR (Jan 6): The Securities Commission Malaysia (SC) said it will be in touch with Malaysian Anti-Corruption Commission (MACC) chief commissioner Tan Sri Azam Baki and the parties involved, following Azam's claim that his share trading account was used by his brother to purchase shares in 2015.
Azam reportedly told this to the Anti-Corruption Advisory Board or LPPR, which is one of five independent monitoring bodies of the Malaysian Anti-Corruption Commission (MACC), following allegations that Azam has interests and shareholding in several companies.
In a press conference on Wednesday (Jan 5), LPPR chairman Tan Sri Abu Zahar Ujang said the board was satisfied with Azam's explanation that the purchase of shares was made via the open market with no conflict of interest or criminal conduct involving Azam, and that the shares were transferred to Azam's brother, Nasir Baki, that same year.
In a statement Thursday, the SC said: "The SC will be in touch with the parties involved, including Tan Sri Azam Baki, for an explanation and to verify the statements made, as well as gather any relevant evidence".
It also noted that Section 25 of the Securities Industry (Central Depositories) Act 1991 (SICDA) stipulates that every securities account opened with a central depository must be in the name of the beneficial owner of the deposited securities or in the name of an authorised nominee. 
"In addition, Section 29A of SICDA stipulates that all dealings in securities shall be effected only by the beneficial owner of the securities or an authorised nominee," it added.
According to news reports, Azam also held a press conference on Wednesday to explain that the shares were bought by his brother using the latter's own funds, and described the allegations against him, which had gone viral on social media, as malicious and "a total lie" to create a negative perception against him.
"It is portrayed as if I control a large conglomerate under myself, in order to tarnish my reputation as the KP (chief commissioner), as well as that of the MACC," Azam was quoted as saying.
He also said he would take legal action against those responsible, adding there were efforts by individuals with personal interests or with a bad agenda against the MACC, who were taking the opportunity to erode the public's trust in the commission by attacking the office of the KP. "We have identified who they are and what their agenda is," he said.
Abu Zahar, meanwhile, said the LPPR had planned on informing the matter to the public, but that the matter was prematurely raised by former MACC consultation and corruption prevention (PPPR) panel member Dr Edmund Terence Gomez, who reportedly quit the PPPR, after claiming the committee had failed to discuss reports involving senior MACC officials and allegations of share ownership.
Read also:
MACC officer charged with criminal breach of trust
MACC independent monitoring body says no conflict of interest in share trading involving Azam Baki
Kit Siang: MACC Anti-Corruption Advisory Board acted beyond its powers in clearing chief commissioner of wrongdoing 
Azam Baki denies having control over many companies
Tan Choe Choe & Chong Jin Hun