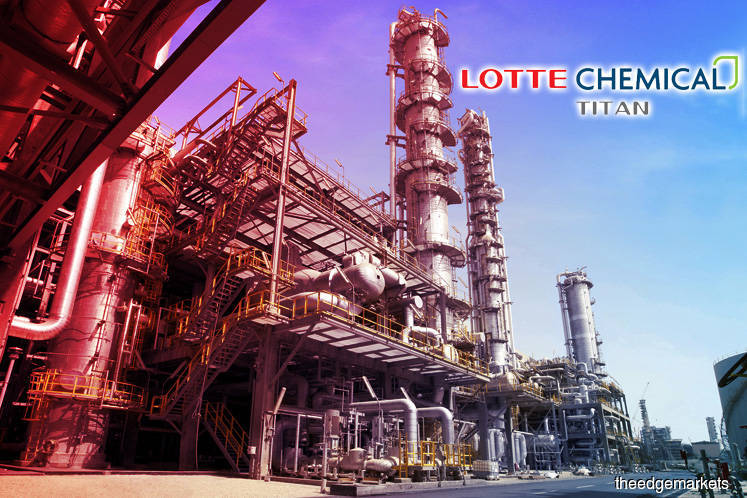 KUALA LUMPUR (Dec 18): The Securities Commission Malaysia (SC) is maintaining its decision to reprimand and penalise Lotte Chemical Titan Holding Bhd (LCTitan), its two executive directors, Ernst & Young (EY), and Maybank Investment Bank Bhd (Maybank IB) for not informing the SC on material developments before LCTitan's listing in 2017.
Today, the SC said in a statement it maintained its decision after dismissing review applications by LCTitan and other relevant parties. The penalties imposed amount to RM2.19 million in total.
"The parties reprimanded by the SC are: LCTitan, the issuer; Lee Dong Woo and Lee Kwan Ho, LCTitan's executive directors; EY, LCTitan's reporting accountant; and Maybank IB, the principal adviser to LCTitan's listing exercise," read the statement.
The SC said: "In addition, the SC also maintained its directive for EY and Maybank IB to conduct a comprehensive review and assessment of their policies and processes related to their roles as reporting accountant and principal adviser respectively. Both EY and Maybank IB have submitted their respective reviews and assessments of their policies and processes related to their roles."
The applications to the SC by three LCTitan independent non-executive directors Tan Sri Abdul Rahman Mamat, Tan Sri (Dr) Rafiah Salim and Ang Ah Lek to review the imposition of reprimand were allowed and the reprimand was set aside, said the commission.
"LCTitan's non-independent non-executive director Cho Seongtaeg's further reply in relation to his application for review is still pending," the SC said.
According to the SC, it had earlier reprimanded and fined LCTitan, two of its executive directors and EY on July 9, 2018 for failing to inform the SC on material developments prior to LCTitan's listing.
In addition, the SC said it reprimanded and fined Maybank IB for its failure to carry out appropriate due diligence on LCTitan.
"Given the severity of the failure of parties to inform the SC of the material developments, the SC imposed a fine of RM560,000 on LCTitan and a fine of RM297,500 on EY.
"The executive directors of LCTitan were fined RM441,000 each, whereas a fine of RM450,000 was imposed on Maybank IB," the SC said.