This article first appeared in The Edge Malaysia Weekly, on August 24, 2020 - August 30, 2020.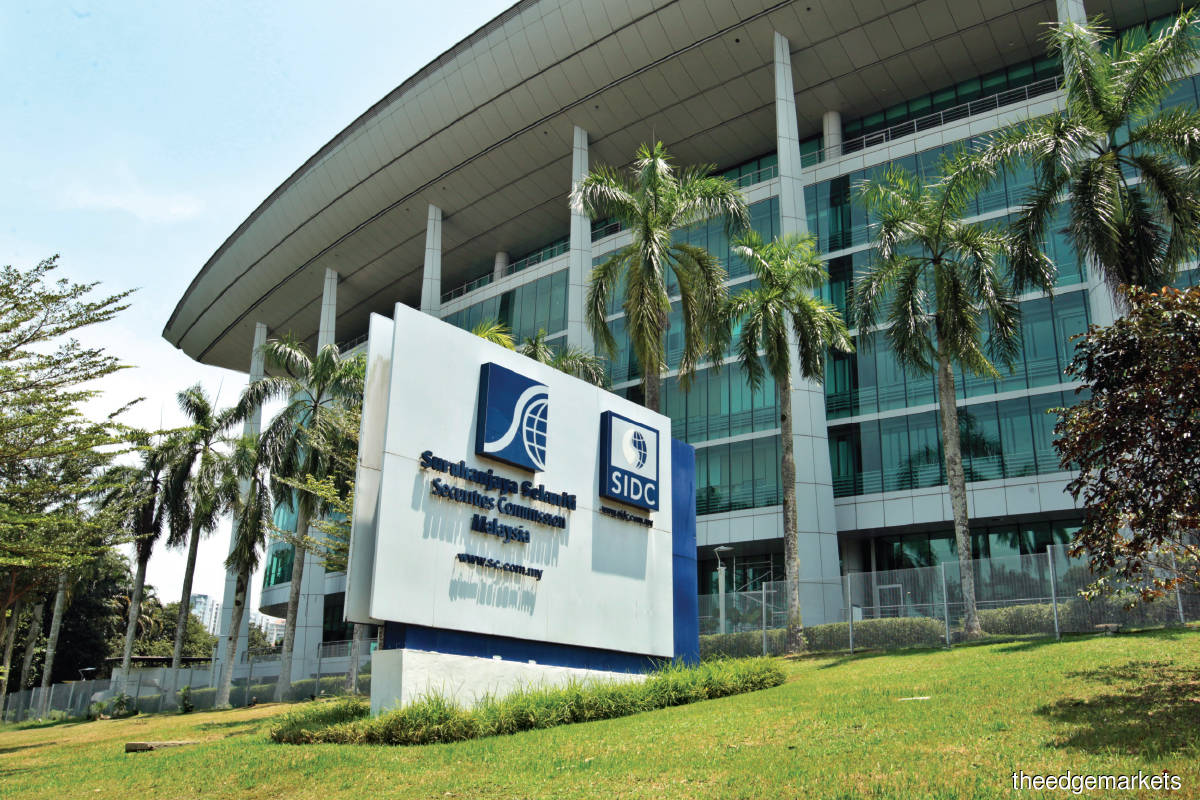 COMPANY directors may find themselves in the crosshairs of the Securities Commission Malaysia (SC) if they are found breaching their fiduciary duties to shareholders under the new guidelines governing the conduct of directors of public-listed companies (PLCs) and their subsidiaries.
In the past, the offence fell under the scope of the Companies Act 2016.
Minority Shareholders Watch Group (MSWG) CEO Devanesan Evanson says the Companies Act comes under the purview of the Companies Commission of Malaysia (SSM) and all this while, the commission has been the regulator who could take action for breaches of fiduciary duties by directors.
But actions taken by SSM against company directors for breaching their fiduciary duties have been few and far between in recent years.
Industry sources say previously, it was a challenge for the SC to take action against directors for breaching their fiduciary duties as it was not a violation of securities laws. This is because the offences that a director was liable for under the provisions of the Capital Markets and Services Act 2007 (CMSA) were limited to causing wrongful loss to the PLC or its related corporation.
That is no longer the case. Under the SC's Guidelines on Conduct of Directors of Listed Issuers and Their Subsidiaries, which came into force on July 30, directors can be held liable if they fail to act in the best interests of the company of which they are board members. This includes ensuring that the financial statements of the PLC and its subsidiaries are properly audited.
"The fact that one more regulator, that is, the SC, can now take action for a breach of a director's fiduciary duty is to be welcomed. This just goes to underscore the importance of the fundamental duty of being a director; to act in the best interest of the company," says Devanesan  in an email response to questions from The Edge.
Under the guidelines, directors have been defined broadly to include C-suite leaders such as chief executive officers, chief financial officers and any other person primarily responsible for the operations or financial management of a company, by whatever name called.
Nominee directors are also reminded that their first and foremost duty is to act in the best interests of the company and not their nominator.
Nonetheless, the guidelines are nothing new but a restatement of the standards that are expected of directors as fiduciaries.
When contacted, an SC spokesman tells The Edge that the guidelines are part of the regulator's ongoing efforts to enhance directors' professionalism and encourage the adoption of corporate governance (CG) best practices.
"As a capital market regulator, the guidelines mark an important milestone in the SC's journey in enhancing CG standards among PLCs. As you may be aware, the ability to enforce a breach of fiduciary duties is a critical component in driving good governance. These guidelines will enable the SC to set the required standards in the discharge of fiduciary duties and enforce breaches of these duties."
Shareholders have a role to play too
The SC spokesman notes that the guidelines are also to support shareholder activism. "Shareholders have a role to play in driving board leadership and the effective discharge of fiduciary duties by board members. Shareholders, when reviewing company disclosures — for example, in CG reports — should evaluate whether or not the company has a proper governance framework," the spokesman says, noting that the SC had, in February, released an annual general meeting CG checklist to promote meaningful dialogue between shareholders and boards of directors during AGMs.
"We look at improving CG culture as a shared responsibility. Every stakeholder, especially institutional investors, has a role to play, and if everyone plays his role effectively, we would have a better CG ecosystem," the spokesman adds.
The spokesman also points out that the adoption of CG best practices in Malaysian PLCs has improved over the past year. "We continue to see new adopters of practices such as the two-tier voting process and disclosure of senior-management remuneration. Many small- and mid-cap companies are the early adopters of these practices and we continue to see this number increasing."
Further details will be published in the SC's CG Monitor 2020, which will be released soon.
The spokesman says in some situations, investors are the ones who determine that the companies that they invest in must have certain CG practices in place. "Investors take CG into account before making an investment. Thus, companies would not be doing themselves any favours by not adopting these CG measures."
Devanesan concurs. He says, generally, the adoption of CG practices has been good for the larger companies, while there is potential for improvement among the smaller companies.
However, he believes that  the two-tier voting practice for independent directors whose tenures exceed 12 years is still not being widely adopted. "Another practice that is not adopted widely is the disclosure on a named basis of the top five senior management's remuneration component in bands of RM50,000. The practice on the need for the positions of chairman and CEO to be held by different individuals is also not widely adopted," he says.
He reasons that this is due to the fact that the Malaysian Code on Corporate Governance (MCCG) issued by the SC is principle-based and not-rule based. "As such, companies can sometimes explain away their non-adoption of a practice without fear of regulatory sanction.
"It would be good for Bursa Malaysia to now trawl through the practices in the MCCG and make into rules those practices which they consider more important for good CG among companies. This would create a higher level of adherence of those practices," he adds.
According to a market observer, more shareholders are asking questions during shareholders' meetings, particularly regarding directors' remuneration. "More importantly, more companies are also taking action against their directors for breach of fiduciary duties," he says.
Devanesan notes that shareholders' activism at general meetings has improved in recent years, with some shareholders asking the "hard" questions and challenging the board's answers, but their voices can be ignored by the majority shareholders.
"Shareholder activism can be especially challenging for the minority retail shareholders; very often theirs is like a lone voice in the desert, quickly dismissed by major shareholders.
"In turn, institutional investors, by the sheer size of their holdings, are in a better position to influence changes in behaviour among board members," he says.
Although Section 346 of the Companies Act 2016 has a provision under which shareholders can take action for oppression of their rights, Devanesan says legal action takes time and money — something retail shareholders can ill afford. "Thus, the fact that the SC can take administrative action under its latest guidelines must be seen as a welcome move," he adds.
Still, it is understood that the guidelines are by no means a way for the SC to go after all directors. "Already, the pool of independent directors is limited and then you have the SC coming down hard on them. Will you want to become a director? What is more important is to develop the CG culture, not enforcement of law, that is, getting people to do the right thing voluntarily," an industry source says.
Devanesan says the majority of directors are aware of their duties as every director of a PLC must go for mandatory training on what it entails to be a director, so directors cannot feign ignorance.
"Anyway, ignorance of the law is no excuse. The regulators are doing their best in terms of regulatory discipline when it comes to directors' duties. But what is perhaps even more important is the need for self-discipline among board members. With that in place, there would not be a need to come to the stage of regulatory discipline."
Meanwhile, Chapter 5 (of the new guidelines) on group governance will come into effect on Jan 1, 2021. Guidelines under this chapter state that a subsidiary of a PLC and its directors must provide the holding company with any information requested by it to enable the board to oversee the performance of its subsidiaries effectively, including assessing non-financial performance of the group.
Salient points in the new guidelines
•    A director of a corporation must exercise his powers for a proper purpose and in good faith in the best interests of the corporation in which he sits as a board member;
•    In the event of any conflict between his duty to act in the best interests of the corporation and his duty to his nominator, the director must not subordinate his duty to act in the best interests of the corporation to his duty to his nominator;
•    In directing or managing the business and affairs of the corporation, a director must exercise reasonable care, skill and diligence;
•    A director is required to maintain a sound understanding of the business and keep abreast of relevant developments to ensure he is able to discharge his duties and responsibilities effectively; and
•    A director of a corporation must not accept a benefit from or provide a benefit to a third party by reason only of (a) him being a director; or (b) him doing something or refraining from doing anything as a director.